Oh. My. God. Did anyone see
Hit Me Baby One More Time
tonight? Much like last week when Vanilla Ice captured the win, this week was some bullshit.
Now, I love me some Howard Jones and I initially was rooting for him, but then Wang Chung busted out with some "Hot in Herre"!!!!! It was classic and DEFINITELY deserved the win! Going into it, I figured Irene Cara had it locked but damn, Wang Chung, damn. As Randy Jackson would say "That was hot baby. You worked it out." But alas, Irene pulled it out. She definitely didn't deserve to win. "What a Feeling" was fine, but then she sang the second song with her new group "Hot CARAmel" (get it?) and she didn't even do all the vocals. Not fair in my book... and not really all that good.
I definitely knew Howard didn't have a chance once I saw the songs he was singing. Don't get me wrong, "No One Is To Blame" is definitely his best song and probably one of my Top 5 Faves ever of any artist and I love "White Flag" too. But they were both too slow to really get the crowd going. Plus, "No One Is To Blame" is a really long song and a lot of it had to be cut out. He should have tried "Things Can Only Get Better." That would have gotten people out of their seats and really into it. In fairness to him too, he still wouldn't have won, but it would have been nice to see him moving around. He puts on a great live show. I've seen him numerous times and only once it wasn't fantastic. I actually met him about 2 years ago and he was really nice... kind of shy actually, and he had better hair than he did tonight: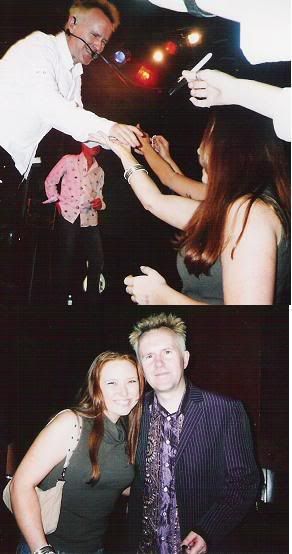 He probably would have done better tonight if he had he worn his hair like this: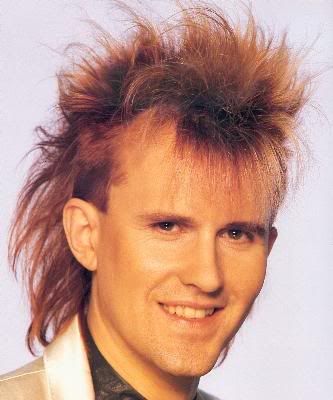 Cameo didn't stand a chance. They butchered "1985," and even got some of the lyrics wrong. Initially I was surprised when Wang Chung was winning the online poll but then they hooked it up!! RE-count!!
I guess there was a reason I thought Irene Cara would win so I shouldn't be surprised. She has some of the most memorable songs ever to her advantage so she was really a shoo-in. (As a side note, if anyone ever wants to see the dance I made up to "Fame" in College, I'm sure I can work something out with my webcam) :-) Her performances tonight just didn't warrant it, and I'm annoyed!