Do me a favor. If you haven't tried the new
Dairy Queen
Banana Cream Pie Blizzard, GO! Run, don't walk, and get yourself some of this deliciousness!!!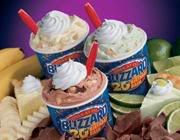 I won't be cruel and post the nutritional information here, but let's just say it's worth it!
I was concerned at the calorie content at first, but what the hell. I'll work it off on my
Gazelle
.
(I SO have a Gazelle, by the way.
Yeah, baby!
)