I was just in Wal-Mart (a place that happens to be the bane of my existence, but sometimes you've just gotta do it) and something caught my eye, and not in a
completely loveable and hysterical way
, but in a "Holy shit, what were they thinking?" way.
You know those "Bratz" dolls? The ones with no noses that sort of look like whores?
Well, as if those dolls aren't bad enough, MGA Entertainment, the company that manufactures them, has decided that it would be a good idea to take it one step further. Demeaning teen girls isn't enough, folks. We must now move onto the younger generation!! That is, the generation born post-2003! I present to you, in all of its repulsiveness, BRATZ BABYZ: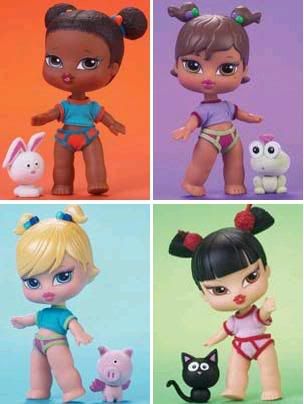 As if that wasn't disgusting enough just to look at, I invite you to read the text which accompanies these little pedophile's dreams:
"Before the Bratz were everybody's favorite fashion friends, they were the Baby Girls with a Passion for Fashion™! This is where it all began – the funky fashions, the sizzlin' accessories and the far-out friendship! Look out, these Babyz™ already know how to flaunt it, and they're keepin' it real in the crib!"
Umm... are they kidding me? WHAT are they thinking? These horrible little dolls actually made me stop and stare, mouth gaping. I cannot believe they think this is a good idea! Maybe I'm overreacting. Is anybody with me on this?
I mean, really. The orignal Bratz were bad enough. Then they went ahead and made the "punk" metrosexual "Bratz Boyz":
(yuck)
Then came the filthy little spin-off dolls known as the "4-Ever Best Friends"
(CREEPY! Like
Kewpie Dolls
in Drag!!)
Then they tried to sexify the animal kingdom, which resulted in the absolute horror of "Bratz Petz":
(Tell me those won't give kids nightmares!!)
As if all of that isn't weird and inappropriate enough, when you leave the official Bratz website, this charming message appears:
"You are about to leave the official Bratz Website! Until next time, take care, keep it real, and above all else, BE BEAUTIFUL!!"
Yay for American values!!!!
Like... does anyone else remember
Strawberry Shortcake
?
Cherry Merry Muffin
?
Moondreamers
? What has our world come to? What's next? "Bratz Prostitutz"?
And WHAT is this all about???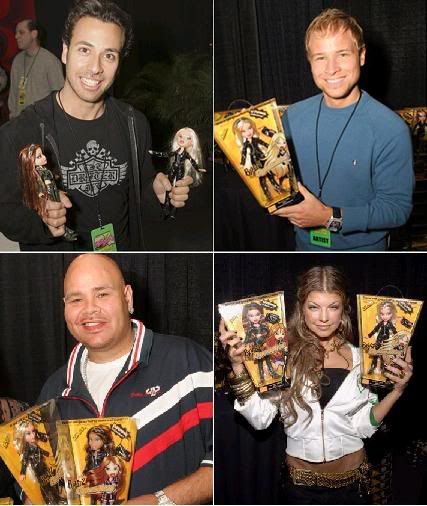 I'm speechless.
(Note: If you aren't appalled/confused enough, there is ENDLESS fodder on this wretched website. Visit for yourself!!)