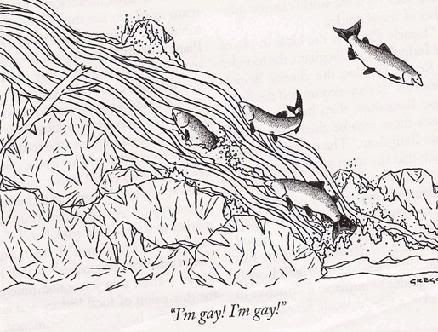 I like this. It's apparently from The New Yorker, but I found it on the blog of
Alistair Appleton
, host of
Cash In the Attic
and
House Doctor
(which air on BBC America for us yanks). Actually, charming cartoon aside, after reading his blog, I've decided that Mr. Appleton is probably one of the most interesting, amazing people I've seen or heard about in a long while.
For starters, he's ridiculously intelligent. Well-educated, well-spoken, well-read, and extremely well-travelled. He seems to have a broad range of interests and he writes about his experiences with such vibrance and honesty, which is really refreshing. Even the name of his blog, "Do Buddhists Watch Telly?" (he is, and he doesn't, apparently) is unique and witty. He just seems so down-to-Earth and ridiculously charming. Anyone who's seen him on
Cash in the Attic
would surely have to agree. I've never cared so much about antiques in my life. :-)
It also doesn't hurt that he happens to be probably the most physically beautiful human being ever created.
His is a blog that I'll be keeping an eye on. Keep up the good work, Alistair.