Okay, so Nicole Richie is definitely stylish. As we know, she even won a Young Hot Hollywood Style Award. Of course people are going to look to her for style ideas. But inspiration and flat-out imitation are two different things. They say imitation is the sincerest form of flattery, but if I was Nicole, I'd be sick of people stealing my looks!!!
Let's Review:
First we had
Nicky
...
Then came
Kim
...
And now even Lindsay's jumped on the "I wanna look like Nicole" bandwagon...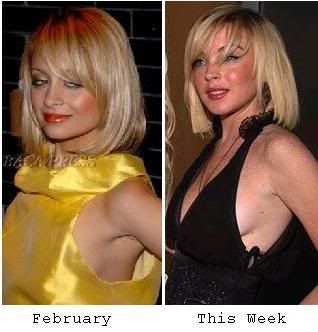 She's totally got the facial expression, stance, and peek-a-boo boob down pat. Watch your back, Nicole!!
Mischa's
probably next!!