I know you're not used to hearing me say this, but I've been working a LOT lately. I'm hardly ever in front of the computer anymore, which is sort of blasphemous really. Today was the first day in over a week that I made it to the gym too, which is disgraceful!!
The sad thing is, all this time away and I still don't have that much to report! Let's see...
Well, for starters, I've rewarded myself for working so hard lately and went ahead and ordered
those boots I adore so much
. They better be just as cute in person!!! I actually was going to get
these
too, but they're real suede and Marnie don't play that.
(And for those of you saying to yourself, "But she has many pairs of Uggs and those are real sheepskin" I refer you
here
.)
What else? I also bought
this
, so that I can now play my Ipod in the car on my (hour and 15 minute) ride to work. This is particularly important because morning radio freaking sucks. Just jabber, jabber, jabber. Can a ho get a song? Thanks. Hopefully it works as good as they'd have you believe. I'll give a full report next time.
Now if only my EZ-Pass would just hurry up and get here, my car'd be all set!
Did a little more shopping as well. I got tons of somewhat matronly looking clothes to wear to work. It's a professional setting so I can't exactly come in looking like the Queen of Trend that I normally am (insert tongue in cheek). Oh well. I guess I can deal with looking frumpy for 10 hours a day. I'll just have to step it up on the weekends. :-)
I almost forgot! I bought this too: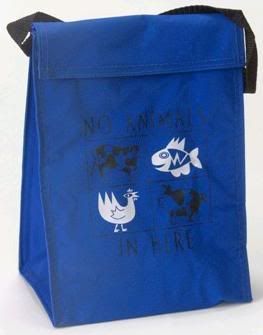 I've wanted that forever, but now I actually have a place to pack a lunch for and use it!
Tomorrow I'm heading down the shore again with my sister and her kiddies after work. According to weather reports, things are looking up, unlike
last time
!! Keep your fingers crossed!!
Anyway, I'm beat and I still have to pack and all that jazz. See ya' Sunday!