Okay, so I haven't had much time to breathe lately, and I wasn't home all weekend to do this, but I would very much like to wish a
VERY HAPPY
(albeit belated)
23rd BIRTHDAY
to one of my very best mates in the world,
Felicity!!!
Fliss, it's
so
weird to think that you're older now than I was when we met!! (FYI to others, I'm the old hag in this relationship... I'll be 26 in February... not that I'm bitter!). To celebrate the occasion, in accordance with Halloween, I offer up this photo of a drunken Felicity dressed as a witch. Don't say I never gave you anything, people: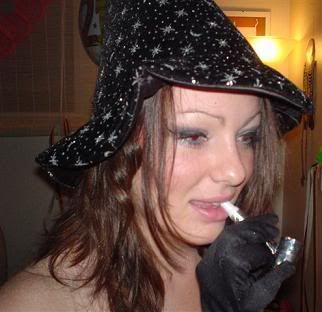 And Fliss? All I can say is that I hope someone was thoughtful enough to get you one of these:
And in Other Birthday News...
I was initially trying to stay very neutral and hushed about Catherine's birthday, as I sent her a gift that I knew she was really going to love, and I wanted that to be a real highlight of her birthday. I didn't want to make a big stink because I wanted the gift to be the only big stink... you know? Anyway, accordingly, I didn't mention it being her birthday on the site. As she's now received the gift and loved it, I'd like to give her birthday a mention!!
Happy SUPER DUPER Belated 17th Birthday, Catherine!!
And Finally...
As if the non-mention of two important birthdays wasn't enough, I'd also like to point out that my baby boy, Simon turned 8 this past Thursday! (That is, my dog, not
LeBon
... although it was his birthday as well). The plan was to take him to PetSmart and let him pick out whatever he wanted, but unfortunately my car broke down (yes, again) on the way home, making this feat impossible.
But... better late then never, so
HAPPY BIRTHDAY SIMES!!!!!!!!!
I've got MUCH updating to do this week, so look for that on Wednesday as I've got some cool Duran Duran-related plans tomorrow. Halloween pics, weekend stories, and some celeb gossip all coming your way!! Woo hoo!!