I was just browsing
Pink is the New Blog
, and
Trent
has some cool news about Morrissey being hard at work on his new album (woo hoo!). Accompanying this info are some shots of Moz with his producer Tony Visconti:
These shots are particularly sweet for me because my boy Mikey Farrell is in the middle shot! Mikey is an AMAZING, multi-talented musician who currently plays keyboards for Moz (as well as trumpet, percussion, guitar, backing vocals and just about any other thing you can think of -- I'm telling you --
multi talented
!). On top of that, he's an absolute sweetheart! He was one of the (many) highlights of working for Morrissey last year (which I cannot believe was a YEAR ago, by the way!). Total class act!
Anyway, I'm just rambling now but I thought it was cool that Trent had his pic up, even if he didn't know it!!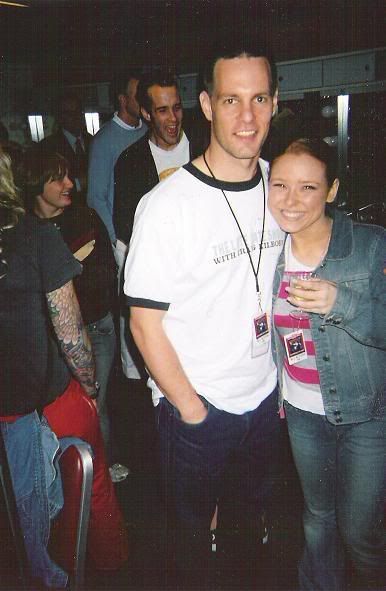 Backstage after Moz's second night at Radio City Music Hall, October 2004.