You know, I've sort of become a "weekend blogger" lately and I don't like it one bit!
You know what else I don't like one bit? Whe Nicole Richie comes to NY to do a book signing for
The Truth About Diamonds
and I know nothing about it, thus missing the whole thing!!!
If you recall, I had
big plans
to attend such a book signing and I'm gutted that I wasn't able to be there!! I love me some Nicole, and I very much look forward to reading
the book
. Hopefully I'll get to it this weekend!
Among other things, I'm extremely excited to read about "Simone Westlake," a character that, from what I read, is definitely "loosely" based on Paris Hilton. I refer you to this:
Simone, who is always "accidentally on purpose" losing her cell phone, coerces "rock royalty princess" Chloe Parker to pretend they're best friends for an ad campaign. Then Simone stabs Chloe in the back. Richie describes Simone as "a model, an actress and an all-around professional fake-rich girl" who has never been "seen out of pumps since puberty ... not even in her night-vision skin flicks."
Ha! LOVE the subtlety! "That's hot."
(From
Perez's forums
)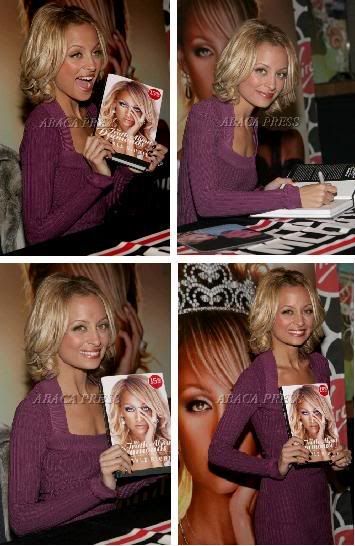 Hopefully I'll catch you next time, Nicole!