Huge shout-out to my girl
Catherine
for making her first (but I'm sure not last) appearance in the
Daily Star
(which is totally a national tabloid in the UK)!!
Catherine dressed as
Vicky Pollard
from
Little Britain
on a few occasions this year and it landed her a spot in the paper. If you don't know Vicky or
Little Britain
(shame on you because it's one of the best shows ever... but if you live in the US and don't have BBC America, you're forgiven... but at least buy the DVD) then you can either check out some of the sites below to fill yourself in, or you can just take my word for it that she did an awesome job. The paper obviously agrees!
Well done Cat!!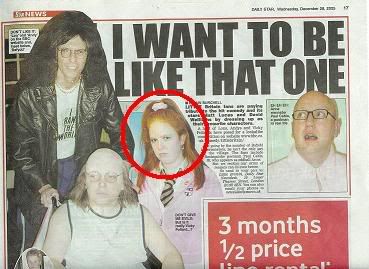 Click for larger image
The Official BBC Little Britain Website
DavidWalliams.com - A super comprehensive fan site
Little Britain's IMDB page
BBC America's Little Britain page