Well
, it's been a long time coming, but here I am on this final day of 2005, finally ready to regale you all with the tales of my recent, fabulous trip to my home away from home, the United Kingdom. Brace yourself... it's gonna be long. Sickeningly long. In fact, I think I'd do well to get it all finished by the end of the year (*chuckle*) but I do hope to watch the ball drop so that will be my incentive to hurry it up. Away we go!
During the first few nights
I was there, for some reason, I didn't take any photos so you'll just have to rely on my vivid descriptions. The first night I went to a Christmas dinner with Micki and some friends from her old work at a restaurant in Marlow called Pachangas.
Like I said, no pictures. But just try to imagine Micki and me inside a Mexican restaurant drinking "Cancun Coolers" with her old work friends (with one of them yelling "Get your kit off!" to a Birthday group at a nearby table) and you've pretty much got the night sussed.
The next night
, Fliss and I went to nearby Maidenhead (which for those not in-the-know, is the name of the town not a bar) with, oddly enough, an old work friend of hers. I did get a picture from this night but sans flash, so it didn't come out. I was promised pics from the friend's boyfriend's camera, but I haven't got it so again, use your imaginations. I had a hat on if that helps.

Am I boring you yet?

The following night, a Thursday, I met up with "the lads" at the Horse & Jockey Pub in Wycombe. Early in the evening I (finally) took my first real photo of the trip, which was this one with Wycombe's own "Glennie":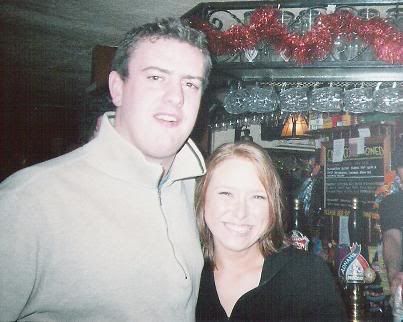 And no, we're not models. Imagine that.

For some unknown reason, many of us ended up going to this place called The Blue Room (formerly The Orchard or 'Chad). It's good for a sort of "old times sake" laugh, but other than that, it's the sort of place that no one should ever want to go... ever. But what the hell, I started my Wycombe journey there almost 5 years ago so who's to say I'm too good for it now??

Imagine our surprise when we arrive to find that it's a private party (for under 17's) and that we're not allowed in! Hmmph!

A few arguments ensued between expert blagger Summers and his girlfriend (who'd arranged for us to have a reduced cover and stuff -- long story) and lo and behold, within minutes we were in. Yes... in an under 17's party. We actually had to wear wristbands to show that we were old enough to drink! Disgraceful!




Shame on us!

The night also brought about quite possibly the most unflattering picture of me ever taken, but Mini looks good so what the hell...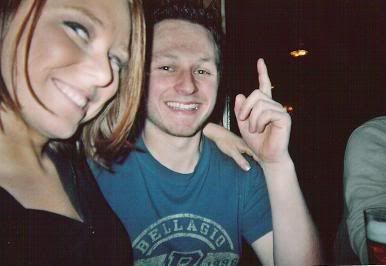 I made it home in one piece and I was ready to begin the next day of my holiday.



The following night

, I went out with that lot again, this time to a different pub that I don't remember the name of. I'm thinking it was probably The Something Arms or the Queen's Something or the Horse & Something. Most of them are. Anyway, it's unimportant.

That night I got to catch up with Mark Blackwell, whom I hadn't seen since he came and stayed with me during my senior year of college. He and I go way back to my first summer in High Wycombe (2001) when I threw a house party at my boss's house while she was in Florida. That night, he fell backwards down her back garden steps and crashed through the garden fence, splitting his head open. Nice. Thank God he wasn't hurt! That same night yeilded a food fight, several headbutts and a broken eardrum on Richie's part, care of Glennie. Only at my party. But that's a whole other time and place so let's get back to the present!

I forgot my camera on this evening so I unfortunately didn't capture any pics of Blackwell, but for now you can enjoy this one of him from that fateful night, just after "the incident."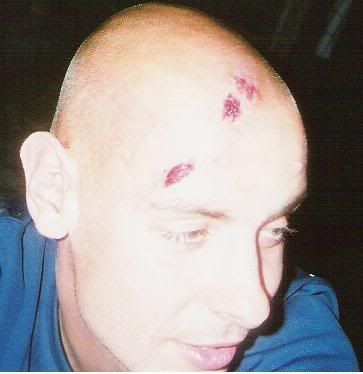 When we left, Summers, Whiz, Blackwell and I ended up heading over to a nightclub called Time, an old standard in the town center, and stayed until closing. Nothing too eventful, but a good night all the same!



That Saturday

turned out to be quite an eventful day... almost too eventful if you ask me. I'll cut through the boring stuff and bring you right to the goss. Picture this:

Stu and I innocently enjoying our final round of the evening in a central London pub.

Enter a maniac.

This Moroccan guy (or something like that... he was slurring so I couldn't really be sure) comes in, gets a drink, and (lucky us) pulls a chair up and joins us. Yay.

He preceeds to pull out his Blackberry and say (something like) "I'm going to give you the names and addresses of the important people in here. I do it for everybody. Do with it what you will. Further your career, whatever." I had a look and people like "Jake's mum" (whoever that is) weren't really of any interest to me in furthering my career, but whatever.

He then starts telling us about all these restaurants and coffee shops he owns around the world and how rich he is. Apparently he's got a "business meeting" in 10 minutes as well. Oh yeah, and did I mention that he's a world champion martial artist as well?

Anyway, cutting to the chase, out of nowhere he starts to get violent and it looks like he's going to pretty much kill Stu for no reason. I plead with my eyes to the barman to help us. Long story short, the guy gets kicked out but doesn't leave, so Stu and I are scared shitless to leave. I don't really think I'm doing the story justice actually. This guy was an unstable lunatic and the night definitely could have turned out very wrong.

Thank Christ it didn't. You know what though? As I write this I have to wonder where the photos from that day went because I know I took some. Hmm... guess they didn't come out. Oh well. You can just enjoy this one from Stu's visit to America in '04:






Cut to Sunday.



Despite having been completely bolloxed the night before, Fliss managed to get up at a decent hour and prepare a proper full-on Christmas dinner for me, her, Dave, and their friends Adam, Steffan and Lorna. It turned out to be a really great day!

We mostly just drank our faces off (some of us more than others -- Lorna this means you!) and played games around the table. You know that game where everyone has a post-it on their forehead with a name and they have to guess who they are? What the hell is that game called? Anyway, I made Adam, who was sat next to me be Graham Norton. After asking the question "Do I bum men?" he was finally able to guess. Well done him. :-)

It all started innocently enough. I mean, look how cute Dave and I are: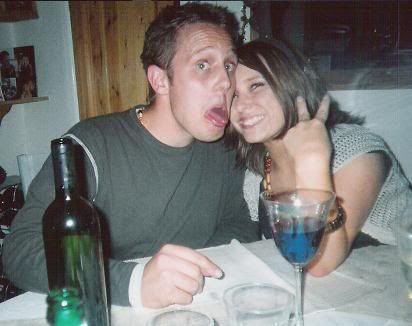 The night ended up getting a little crazy and somehow hats got involved, as evidenced in the following shots:



Not too bad yet.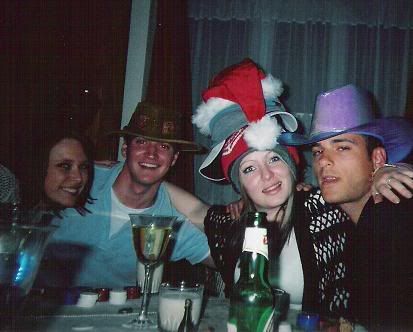 A Motley Crue if there ever was one.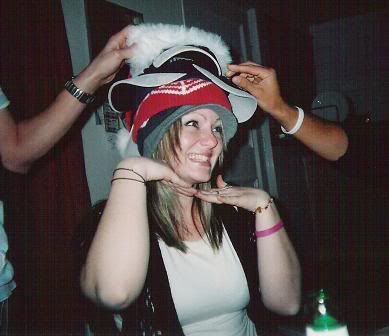 The leaning tower of Fliss.



Steffan, the completely not gay cowboy.

There was plenty more, but I'll spare you.

Lorna ended up going slightly overboard and projectile vomiting all of Fliss's bathroom which is always good, but I'll spare you the rest of that as well. The day was definitely a success and I look forward to seeing that whole crew again soon!

Steffan, you better call me when you're in New York!



That Monday

ended up being another very eventful day! Fliss and I dragged ourselves out of bed and hopped a train into London. We did a quick bit of shopping and then met up with Liam for a drink. He unfortunately had to piss off home but that didn't stop us. Oh no.

We eventually ended up in a Leicester Square bar where we stood wondering why no one was coming up and talking to us (so humble, us). Ultimately we ended up joining up with this group of Army lads who were out for their Christmas "do". They turned out to be HILARIOUS and so much fun, especially Daryl.

Actually, I have no idea if that's how you spell his name. It could be Darrell or Darell. Then again, he's Welsh so it could also be Daftylgir. We'll just say Daryl even though that's almost certainly not it.

I'll spare you the pics of Daftylgir pole dancing, but you can enjoy these:




And here's me with cute Pete.




He was cute.

Then there was this barrell of fun (whom I think was called John but to be honest I can't remember):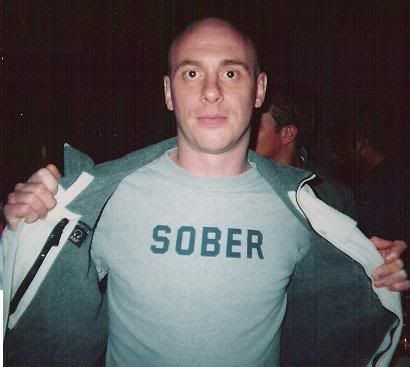 This shirt became tragically untrue fairly early on.

Daryl gave me his number which accidentally on purpose had one too many digits so I was never able to get in touch with him again, which was a shame because he really did make me laugh out loud the entire evening. And the terrible thing is I can't even put his full name (nor the spelling of his first name) here so he can Google himself and find me so we can all reunite (you know, in case the phone number thing really was an oversight) ;-) A shame. Another successful night though. It would have gone on much longer but unfortunately the last train back to Wycombe is at a stupidly early hour. Damn you UK National Rail!



This post

is getting sickeningly long and I still have LOADS to write, so I'll cut through Tuesday and Wednesday (which really only included more shopping, a quick checking of emails and more projectile vomiting, this time on the part of Fliss). Nice.



On Thursday

, Micki and I met up again to have dinner at one of our favourite places, an Italian chain restaurant called Zizi's in Beaconsfield. It was just a shame that Zizi's was packed and we'd have had to wait 2 and a half hours to get seated. As the English would say, sod that.

We headed around the corner to a quaint little Chinese restaurant. Just as we sat down, we looked over and saw Micki's in-laws sitting across from us. Naturally, they joined us, much to Micki's dismay.

Well, and my dismay once her mother-in-law ever so politely implied that I was a hopeless drunk, but that's neither here nor there. I took it with a smile. I also took it with a smile when she accidentally on purpose threw her little Christmas Cracker toy and narrowly missed my eye... but whatever. It's cool. Karma and all that. :-)

Friday was the day that the projectile vomiting a la Fliss actually occurred so we didn't do much, but I didn't mind. Sometimes it's nice to just sit back and chill out! Actually, we did go over to Sunrise Spa in Marlow to get the infamous spray tans done (my second of that trip) so that's always fun. You'll reap the benefits of mine in later photos. It gets pretty ridiculous.

Anyway, that night I sadly bid adieu to Fliss and Dave who were phenomenal hosts to me during the previous two weeks (thanks again guys!!) and headed over to Micki and Jay's for my final night in Wycombe. We had a fancy dress (costumes, for the Americans) Christmas party at the football club with the lads.

Before we left, Micki and Jay and I posed in front of the in-laws Christmas tree for this far-too-grainy photo that I like to call

Marnie "Barely a costume" Farlow poses with Jay "Chav Elf" Richford and Micki "What are you supposed to be" Richford Under the Tree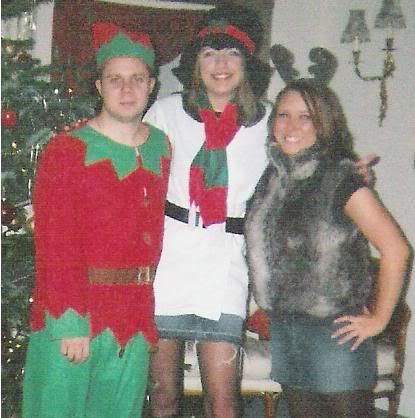 That was a great night as well. Super cheap drinks for one thing, added to the fact that I could finally catch up with everyone that I hadn't seen in the previous two weeks. Everyone looked really great in their costumes (barring Olney, Newelly, and Jonny who are asshats who didn't wear them... no offence of course) ;-)

Richie went as Noel Edmonds (I don't know either) and it was absolutely hilarious. You don't even have to know who he is to know that it was a great costume, as evidenced by this photo:



This board game was given out as a prize in the raffle... that is, before a drunken Mini kicked it across the room. Luckily this pic was taken before the damage had been done!

Liam came as Liam Gallagher of Oasis. Not Christmas themed (he "fancied the wig and thought 'fuck it'") but it's okay because it had me in tears most of the night.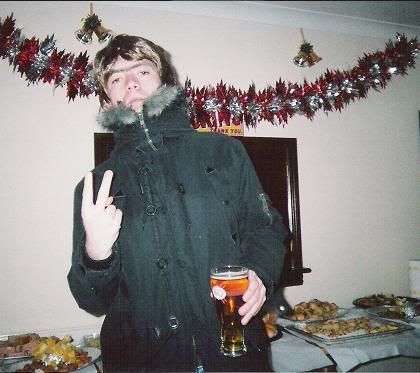 Liam Does Liam.

I wish I'd gotten a full view shot of Matt Solomon who went as Noddy the Elf because the shoes were to die for, but this one will have to do:




The real thing: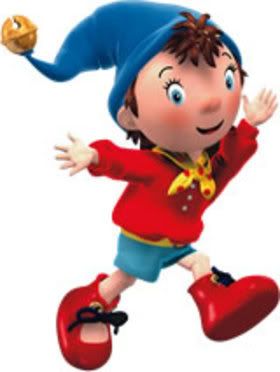 I once again reunited with my 2003 trip hosts Andy and Glennie for this festive shot: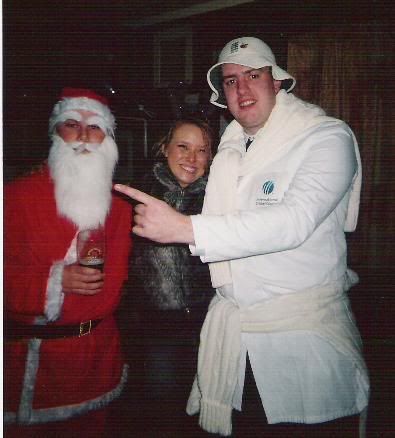 With Priesty, without whom none of these photos would be possible:




Tom, one of "Three French Hens" kept getting trying to trick me into eating meat, but I took this picture with him anyway: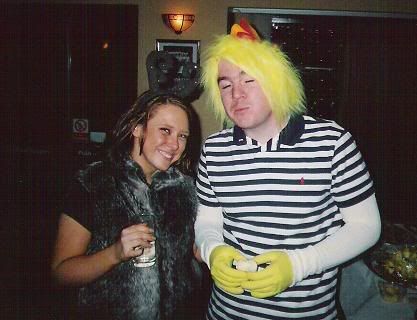 Posing with Jonny "Bah Humbug, I'm not wearing a costume" Miller:




Unfortunately I took this after James wiped his white lipstick beard off: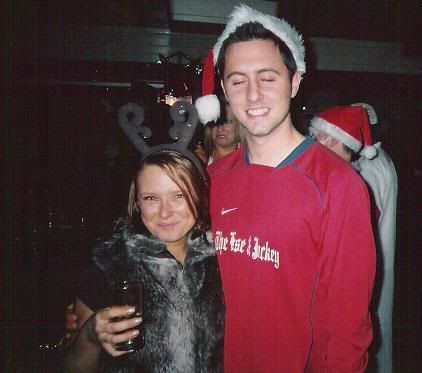 As anyone could have guessed, we ended up at the Blue Room again (oh, how I hate that it's called that now...) where I was lucky enough to have my picture taken with Noel Edmonds: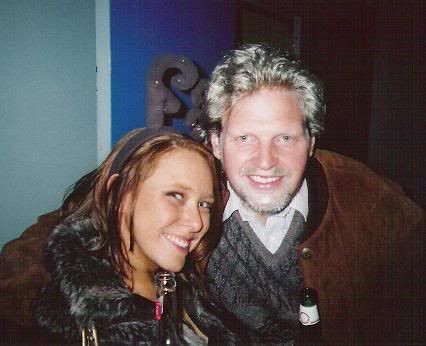 Even Jesus turned up: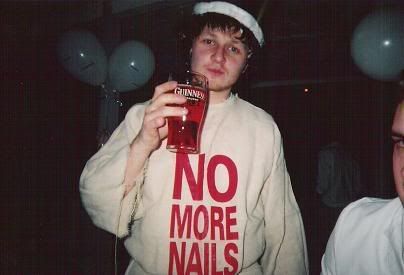 Mini's costume, while extremely politically incorrect, was very funny! I wish I'd gotten a picture of the back which said "Of Nazareth" and had a jersey-style number. Classic Mini! The only thing I wondered was why Mini's version of Jesus had a Jheri curl. *Shrug*

I sadly ended the night by bidding everyone adieu, as I was heading to London the next day to begin the second leg of my 3-and-a-half week trip. Micki and Jay (who quite smartly refused to step foot into the Blue Room) were kind enough to wait up for me and open the gate so I could get in, so I didn't have to sleep on the street. Always good!

The next day, we just kind of chilled out. We went and got a pub lunch where Jay accidentally ordered regular lasagnes for us instead of vegetarian ones. At least three of the waitstaff felt the need to remind us that "you didn't ask for the vegetarian one!" no less than 5 times which was so unneccessary! Jay let them have it on the comment card though, so we had the last laugh. Well, sort of since, we didn't end up knowing where to put the comment card. Ha. I guess they had the last laugh after all. Or at least they will when Jay and Micki go back there and they spit in their food!

I was meeting up with Matt that evening so they dropped me at the train station so I could head into London and we said our goodbyes. I HATE goodbyes!! Rushed ones are almost better than long drawn-out ones though because it leaves less room for sadness. And thus began the second leg of my journey. Goodbye Wycombe!

When I got to London, I headed straight to my hotel in Bayswater where I hurredly got dressed and headed off to meet Matt. Typically, but through no fault of my own, it didn't go smoothly and I was late, but we got there in the end, which is really all that matters.

We started our evening at a little Italian place where we caught up and did a little pre-gaming with a bottle of wine. Matt is one of those people in my life that even if I haven't seen him in say, two and a half years, it feels like I'd seen him the week before. That's the best way to be if you ask me.

We then headed to a few central London bars where we caught up some more, drank some more, and had a really nice time. Of course, it would have been better had the heel of my expensive boot not randomly snapped while I was doing little more than standing still, but oh well. At least it didn't come completely off and I was able to complete the evening okay.

Despite the new 24-hour drinking law that's been passed in England, we ended up having a little trouble finding a place to drink after 2am. Everywhere seemed to be closed except for this big Latin place near Covent Garden (I think). We were lucky enough to find a booth to sit in (you know, with my broken shoe and all) and we contined drinking and chatting, the things we do best.

We were able to snap a few pictures, none of which captured Matt smiling but oh well. Here's two of them for you to enjoy. Ignore my weird looking arm in the one pic. That's what happens when you have to take pictures of yourself!: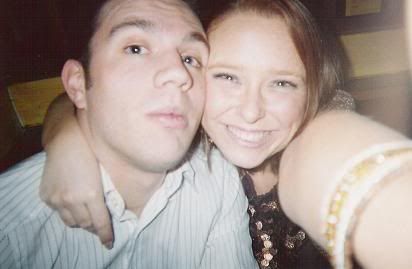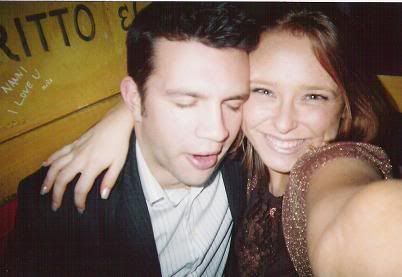 My company must be so stimulating!

We ended up catching an illegal mini-cab back to my hotel... sort of. The guy didn't really know where the hotel was, so we had to kind of get out in the general area and walk from there. I had to break down and take the shoes off and walk barefoot for fear of twisting my ankle and my feet were freezing, but at least it was helping to sober us up. Or so I thought.



Back in the room

, I passed out within minutes and woke up the next day with a doozy of a hangover, only the second in my life. I don't know what it is with me, but I only seem to get hangovers when I've got to travel somewhere and it's really going to negatively affect my life. Last year it happened on the day of my Luton Airport debacle, the day after Morrissey's Earl's Court afterparty. This year I had a 4 hour trip to Manchester ahead of me to meet up with Paul and Duran Duran. Nice! (Hahaha... but I have to admit, hangover or not, reading that sentence back reminds that I do have a pretty cool life).

Anyway, Saint that he is, Matt patiently waited for me to pack up my crap and try numerous times to be sick (to no avail) and helped me with my bags for which I am eternally grateful. Everyone should have someone that they know so well that they don't even care when that person is seeing them look like absolute hell. Love it.

Thanks Matt. :-)

I did say that Saturday started the second leg of my journey in that I was leaving High Wycombe for the final time, but in actuality, Sunday was the true beginning of the (amazing) second half of the trip. In fact, I think this part of the trip deserves it's own post, so that's what I'm going to do!