I'm back peeps!
As you know, I spent the last week on the sunny shores of Florida (well, not on the shores exactly, but in the theme parks!). It ended up really well, although it didn't start out that way!
When we got to the Orlando airport, we waited at the baggage carousel forever, before realizing that everyone else from our flight was long gone, and no more bags were coming around. Yes, that's right... the airline lost our luggage! It created an enormous hassle for us, because we had no clothes to wear out other than the crap we wore on the plane, which at this point was smelly and worn, you know? Not to mention that a velour sweatsuit isn't exactly what you want to wear in 80 degree weather. This left us stuck in the room for 7 hours while we waited for the luggage to show up. It did eventually come, but not without wasting an entire day of our vacation!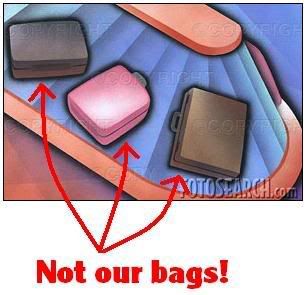 We spent the first few days at Universal Studios, which, to be honest, left much to be desired. The hotel, which I won't name here for fear of being sued (let's just say that it rhymes with "Rembassy Tweets") wasn't the greatest. While it was nice to have a separate living room and bedroom and stuff, my bed smelled like puke on the first day, and there was NO drawer space whatsoever. Being stuck in the room for the lack of luggage left us no choice but to order room service, which took really long. It wasn't as overly priced as you may have expected, but 45 minutes for a bowl of soup, a salad, and a peanut butter and jelly sandwich is a little uncalled for, don't you think?
The shuttles to the park only ran TWICE a day, at 10am and 6pm, and the cab rides were ridiculously expensive so you didn't have much of a choice but to take them. Of course no one ever told us that we needed vouchers from the hotel, so we almost missed it on the first day, despite being outside almost 20 minutes early. Hoorah!
The bar service downstairs was terrible, with us waiting nearly 15 minutes to get waited on (there was only like 4 other people there, and there were 2 bartenders so we weren't being unreasonable!).
I must say that the free breakfast was pretty impressive though, so I guess it wasn't all bad. :-)
It wasn't until we got to Disneyworld that my sister and I realized that we BOTH left our cell phone chargers back there. The hotel refused to send them to us at Disney, because "we could come and get them easily ourselves." Nevermind that it would have cost nearly $80 roundtrip in a taxi! They finally agreed to send them to us (only if we agreed to have them both sent to one address as they're "not a mailing service, ma'am") but we still haven't gotten them nearly a week later. Needless to say, I'll never stay at a Rembassy Tweets ever again!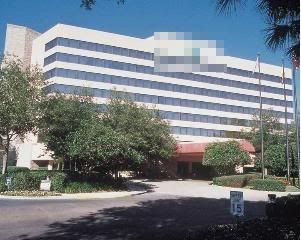 Once we got to Disneyworld, things started looking up. The
Animal Kingdom Lodge
was absolutely stunning, and the view from our room overlooked the "savanna" where the animals roamed. We saw all kinds of things outside of our room on a daily basis, which I thought was really cool. (Of course, it would have been cooler if my sister had known that her video camera had a zoom button earlier than the last day before the trip, but que sera, sera I suppose)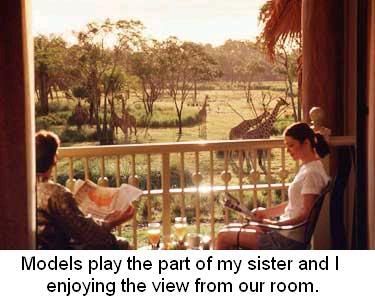 The Animal Kingdom itself, where I'd never been, was great (a million times better than Sea World) and the other parks were as good as always. I always think they should add a few more cool things to make MGM Studios a bit more desirable, but it's still better than what Universal has to offer (barring the
Spiderman ride
, which is absolutely the greatest ride in the history of rides). I'd also never seen Disney's Boardwalk, which was really nice, and the food at the Flying Fish Cafe was incredible. Well worth the mucho scratcho that it cost.
Anyway, there's not much else I can say about that part of the trip other than that it was pretty damn good. My nephew enjoyed that part of the trip FAR more as well, and he wasn't shitting himself on the rides like he was in Universal. He spent most of the time in Disney reassuring us that "It's not scary!" every time we went on something. :-)
On the way home, our flight was delayed on the runway for close to two hours, so instead of arriving home at 9pm like we were supposed to, we landed closer to 11. In typical US Air fashion, one of my sister's bags was nowhere to be found (and still isn't, 3 days later) so we didn't get home until nearly 2am. I couldn't have been happier to get into my bed!
So that's an abridged version of my Florida trip. I'm sure it's everything you hoped it'd be. :-)