Those of you that know me will know that I'm not all that into the current music scene. I'm pretty disillusioned by the manufactured pop bullshit* that rules the airwaves today, and I long for the days of
synthesizers
,
cheaply made videos
, and
boys wearing make-up in said videos
. I wish
Ashlee Simpson
would fall off the face of the Earth and that
Adam Ant
would re-emerge. I want to see the back of
Beyonce
and the front of
Cyndi Lauper
(not in that way, sickos). I dream of a world with more
Culture Club
and less
Backstreet Boys
. I do know that this world, sadly, is long gone, so today I have to make due with the good acts that are around today, as few and far between as they are.
The Killers
are absolutely brilliant, and their style is reminiscent of my retro favourites.
Coldplay
fits the bill as a talented "real deal" act as well. Up until recently, I'd have been hard-pressed to name anyone else whom I look at as a genuinely talented musicians.
Then I found
Keane
.
The first time I'd heard of Keane was last year during the Morrissey tour, when I heard through the grapevine that Moz had refused to meet them when they were staying at the same hotel, because he was bitter that their album had kept his out of the number one spot on the UK charts. Far be it from me to say if this story is even true, but it really has no bearing on the rest of my point here. It's just when I first heard of them.
This year, while in Florida, a live version of their song "Everybody's Changing" came on the big screen at the Hard Rock Cafe in Universal Studios, and I was totally into it. I decided that I was going to check out their CD when I got home, and boy am I glad I did!!!
Hopes and Fears
is by far one of the best CDs EVER. I love it. I seriously haven't listened to anything else in months. I might as well have taken everything else off of my Ipod because I wouldn't have missed it. I know all the words backwards and forwards and almost everyone who got a Christmas gift from me this year got that CD (and for the record, they ALL loved it too).
I'd been meaning to write something about them for a while but kind of never got around to it (I was probably too busy actually listening to the CD). Then yesterday I was reading over the 2006 Grammy Nominations and was ecstatic to see that they are nominated for Best New Artist!! Woo hoo!! Of course, the fact that Ashlee Simpson still sings, and that Lindsay Lohan has a second album out only reminds me that there is no justice in the musical world, so they probably won't win. However, mad props to the industry for even giving them the nomination!
Good luck Keane!!!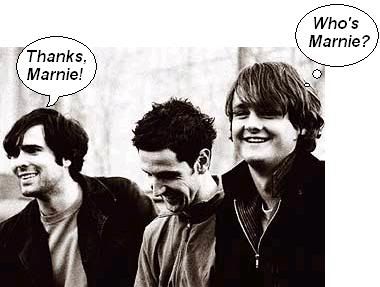 *As they say, there is an exception to every rule, and Clay Aiken happens to be it in this case. At least I admit it!