The end of Paris Hilton and her Reign of Terror, that is! And I could not be happier!!
As you may or may not know, there is no bigger, more coveted event than the Vanity Fair post-Oscar party. Anyone who's anyone is there, and this year, a certain "anyone" was very noticeably missing -- Miss Thang herself, Paris Hilton.
While I'm not the first, let me be another in commending Vanity Fair editor-in-chief Graydon Carter for being the first person with "celebrity pull" to not only stand up and say "Paris Hilton sucks" but to also put his money where his mouth is and take her down a social notch. It was long overdue and, I believe, the first of many upcoming snubs for the idiot heiress and her ridiculously inflated ego.
Like popular girls in high school trying out a risky new fashion, he's paved the way for others to follow suit without having to worry about what people will say. He's opened the door for everyone who matters to say what they really feel. That is, she's completely talentless and totally undeserving of the sick amount of attention she's gotten over the past few years. I welcome with open arms, the end of her overextended 15 minutes of fame.
Graydon Carter, you are my hero.
Paris? Peace out, biotch.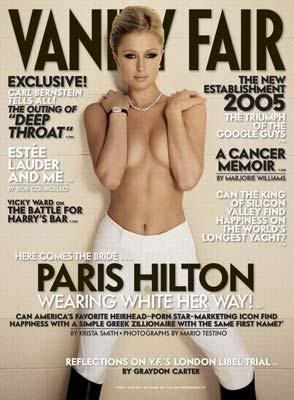 P.S. Nicole Richie was allowed in! Wooo hooo!!!!!!
Paris Hilton Banned From Vanity Fair Party