When someone says the words "heiress" or "socialite" there are two people that most likely spring to mind:
The Hiltons.
Everyone knows them and what they look like. Tall, thin, blonde, tanned girls who are always decked out in the finest designer clothes. Anyone could pick them out of a crowd. That is, unless that crowd was full of other heiresses and socialites. Why?
THEY ALL LOOK THE SAME.
Many of you probably can't name a lot of other heiresses off the top of your head, mostly because the Hiltons have pretty much taken over the world, and the others don't have a chance to make a name for themselves outside of Society pages. But I'm telling you, they all look like clones of eachother. It's like that movie "Village of the Damned" only this time, Dior and Cavalli are involved.
Have a look for yourself...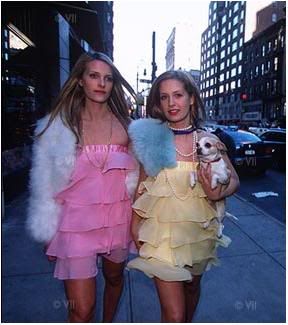 Victoria and Vanessa Traina, daughters of novelist Danielle Steele.

These two have the heiress look down pat, right down to the little dog. In fact, they almost look like 2 girls who have dressed as the Hiltons for Halloween.
Lydia and Amanda Hearst, daughters of Patty and heiresses to William Randolph Hearst's Publishing Empire
While Lydia has a slight 'Jodie Foster' thing going on, these two still fit the heiress bill quite nicely. Two more Hilton clones.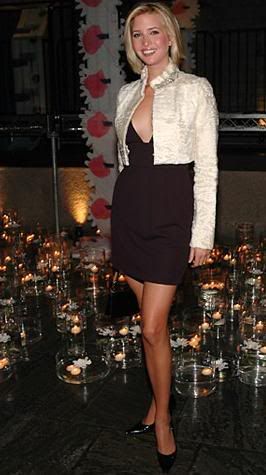 Ivanka Trump, daughter of Donald and Ivana

Tall? Check. Blonde? Check. Tan? Check.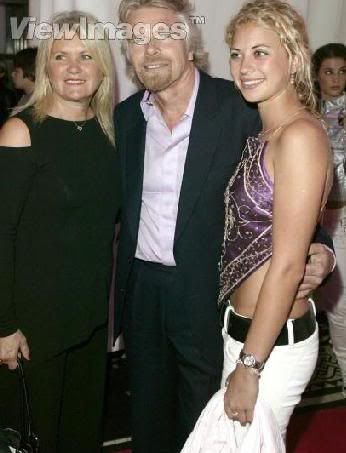 Holly Branson, daughter of Richard, and heir to the $1.6 billion Virgin fortune.
This one is slightly different in that she's studying to be a pediatrician and make a name for herself outside of daddy's money. Even so, tall, blonde, tan... bit of an Anna Kournikova vibe.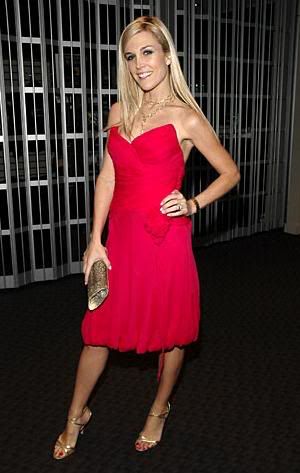 Tinsley Mortimer, wife of oil heir, Topper Mortimer
More a socialite than an heiress really, but no doubt her children (who
will
be the heirs) will be as tall, blonde, thin, and tanned as she is. Definitely worthy of a "Is that Paris Hilton?" double-take.
Casey Johnson, heiress to Johnson & Johnson pharmeceuticals.

Slightly less tanned and tall than the others, but still thin, blonde, and dressed in the most expensive clothes money can buy. They didn't exactly break the mould with this one.
Camila Al Fayed, daughter of Mohamed, owner of London's famed Harrod's department store.

Not blonde, but that's all she's lacking in the heiress look. Slap a blonde wig on her and she'd be interchangeable with any of the others. Also, I expect this one to be hitting the American tabloid scene in the near future. You heard it here first.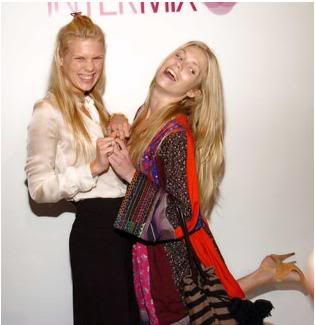 Alexandra and Theodora Richards, daughters of Rolling Stone Keith.
I don't think I even have to say anything. The pic speaks for itself. They even come in a pair like the Hiltons, Trainas, and Hearsts.
And finally...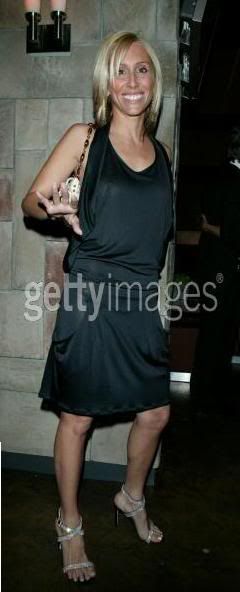 Alexandra Von Furstenberg, daughter of "duty-free" tycoon Robert W. Miller and daughter-in-law of designer Diane.
The oldest of the bunch, but still rocking 'heiress-chic" from head to toe. All of the above girls can look at her and know they're looking into their future.
Creepy isn't it? It's like an epidemic or something. Oh well. At least we know that if Paris and Nicky happen to fall off the face of the Earth, there are plenty of others waiting to take their place!
God help us all.