On Friday night I went to see super ultra hilarious comedian
Jim Gaffigan
live at the Trocadero in Philly. I've listened to his CDs
The Last Supper
and
More Moo Moos
literally hundreds of times, but the shit never gets old. Ever. I was crying with laughter within seconds of him hitting the stage.
Head on over to his website,
JimGaffigan.com
, and I promise you won't be sorry. Spend a few minutes there and I'm sure you'll be buying his CDs in no time. He's that good. Oh, and sign up for his mailing list because an email from Jim is always a treat in your inbox.
On top of everything, he's a SUPER nice guy. A few great photos from that night will be coming soon. In the meantime, you can just enjoy these beauties from meetings past: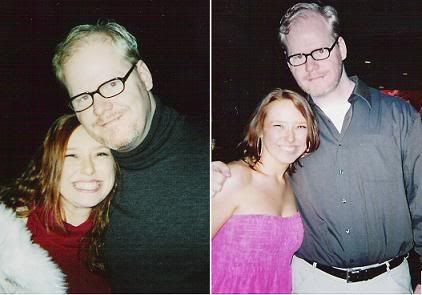 If you do know who he is and you're interested in seeing him yourself,
go see if he's coming to your area soon
. For those of you in the New York/New Jersey/Philadelphia area, he'll be at the
Borgata
in AC on July 15th. The 9pm show is sold out but they've added a midnight show. I cannot stress enough -- GO!!!!
In the meantime, here's a snippet of his pure comic genius!