So we all know how
I love me some Keane
.
I mean
LOVE me some Keane
.
The thing is, here in America, in the last 2 years I'd heard them once --yes ONCE-- on the radio. It was
Somewhere Only We Know
and it was quite a long time ago, right after their album first dropped, some time in 2004. Basically, Keane gets no radio love in the states. That's okay, though. I'd resigned myself to the fact that the only place I was going to hear them was on my own iPod (where, consequently, they get more play than anyone) and that's just the way it was.
That is, until last week.
I was trying out this cool new supermarket near me that turned out to be a vegetarian dream. I was totally loving it anyway, but it only made things better when, on my way through the checkout line, they start blaring
Somewhere Only We Know
. Hot.
That same day, my mom went to a work meeting at Dave & Buster's. She said to me "Guess what? They played Keane at Dave and Buster's today!". Nice.
The following day I went into Baker's Shoes to buy a belt. I walked in and what's playing?
Somewhere Only We Know
.
I went to the movies to see
Poseidon
(which is otherwise not worth mentioning, by the way). During the preview to the new Sandra Bullock/Keanu Reeves pic
The Lake House,
there it is.
Somwhere Only We Know
. (Since then, I've seen the commercial no less than 10 times with the song playing in the background).
Today in Walgreen's while I was buying self-tanner and Mederma for my dog bite scar?
Somewhere Only We Know
.
Right now, I'm watching
Cold Case
. In the background to one of the scenes, once again...
Somwhere Only We Know
.
What the hell, people? I know it's common to hear a song over and over again, but like... 2 years after it was released? When it wasn't even a big hit in this country in the first place? Why now, all of the sudden, is it being played like it's brand new? Not that I'm complaining mind you. They definitely deserve their day in the sun here, but it's just odd.
I suppose this is their first step towards world domination. I just hope I get to meet them before they're untouchable.
Tom Chaplin, call me. ;-)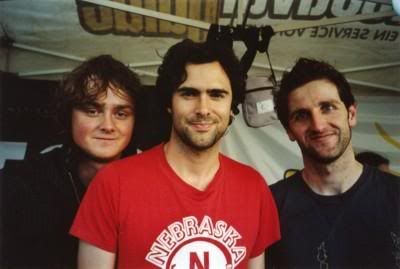 Click
here
to listen to a great version of
Somewhere Only We Know
. You won't regret it.