I'm happier than a pig in slop right now. Why? Because the Marnie Curse (as it relates to American Idol anyway) is finally over. Done! Gone! Bye bye, Marnie Curse!
If you're wondering what the Marnie Curse is, it's simple. When Marnie picks someone to win American Idol, even when its down to the final 2, the opposite person ALWAYS wins. Always, four years without fail.
Yes, that means in the summer of 2002, I sat in my sister's living room and rooted my little ass off for one Justin Guarini. Yes, I hang my head in shame over this fact now, and I completely concede that Kelly Clarkson totally epitomizes what an American Idol is. Talented, real, and a nice person to boot. I just happen to be an underdog person, and Kelly was the favourite to win from day one. What can I say? Idol got it right that year, and I got it horribly, horribly wrong.
But that's not the point. The point is, I wanted Justin, and Kelly won.
Season two. Oh, sweet Jesus don't get me STARTED on Season two. I'm a
self-admitted Clay-tard.
Him losing that year was right up there for me with the '00 Presidential Election, disappointment wise (Okay, I admit it -- it was worse!). Of course, it all worked out in the end. For every CD that Ruben sold, Clay sold about 3 billion, thus showing who the real winner was. (picture me smiling smugly right now). This is the year that officially started a precedent, marking the beginning of the Marnie Curse.
(For the record, gay webcam escapades or not, Clay is
my all-time favourite Idol
and I was delighted to see his hilariously enjoyable segment tonight -- but we'll get to that later!)
Moving on...
Season three was another travesty, ending with Fantasia Barrino kicking Diana DeGarmo's ass. While this is the season that really doesn't count (because quite frankly, where are either of them these days?), it still was just completely unjust that Fantasia won. If I'm being real, Diana didn't come close to measuring up to a majority of the other idols before and after her, but she was likeable, and that goes a long way for me. Oh, and
I like my idols literate
, if you don't mind. Big boo to Season 3.
Season 4, admittedly, wasn't such a blow. In fact, I can pretty much say I loved Carrie Underwood. Many of her performances even made it to my iPod, and she's a vegetarian, even though she lives on a cattle ranch, so yay her. So no, I wasn't disappointed with the result. However, if someone had forced me to choose, I'd have said Bo should win. Which, of course, promptly marked the demise of Bo. (Sorry, Bo!).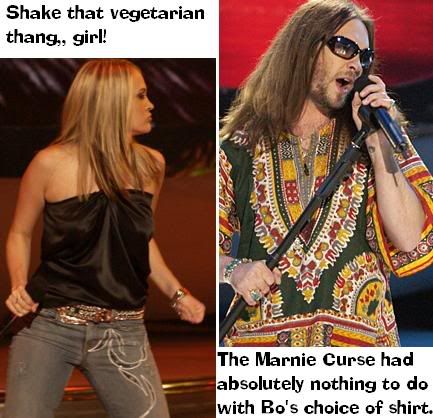 And then there was Season 5. And what a season it was! The most
unpredictable
of all seasons, and in some cases, the most
unfair
(okay, second most unfair. See "Season 2"). But the ends justified the means in this case because...
TAYLOR HICKS IS YOUR NEW AMERICAN IDOL!
"WOO!"
Do you make me proud? Yes, Taylor. Yes you do!
The curse is broken and MY PICK (since the tryouts, mind you) FINALLY won!! YAY Taylor!!!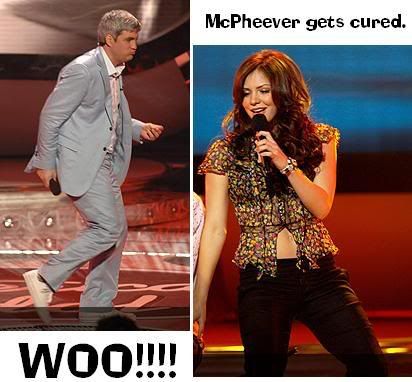 On top of everything, the finale tonight was awesome. There were some weird stuff, but overall I enjoyed it very much, right down to the final seconds. I'm definitely going to ramble on about all that tomorrow.
Watch this space!
Congratulations, Taylor!