...that I'm still reeling from one of the most fun and amazing days I've ever had in my life?
Sit back, kiddies. This is going to be a long one.
As you may or may not have
read
, my all-time favourite band in the history of the world,
Keane
, was in New York this week to promote their new (and ridiculously amazing) CD,
Under the Iron Sea
with an instore mini-concert and CD signing, as well as a show at the famous Bowery Ballroom. I must not be the fan that I think I am, because I didn't even hear about any of this until last Sunday, long after the concert was sold out. However, having the obsessive personality that I do, there was no way I was letting this one get by. I desperately appealed to the masses on Ebay, Craigslist, and everywhere else imaginable and ultimately scored a ticket (for an undisclosed price) :-) After having the time that I had at these events, I can safely say that no price would have been unreasonable. Not only was it the best concert I've ever seen, but the day as a whole was just amazing.
It all started on Thursday night when, after work, I trekked up to Manhattan. I got there around 9, at which point I RACED up to the
Border's at Columbus Circle
to buy a copy of the CD so I could get it signed the next day. The always awesome
Catherine
had sent me the CD from Britain (where the release date was 8 days earlier than ours) but in order to get it signed, you had to have a receipt showing that you'd bought your copy from any Manhattan Border's. Fair enough.
Thankfully I got a taxi really easily because as it was, I busted through the doorway of the store just as they were making the "get your asses to the front because we're closing" announcement. I grabbed my copy and very annoyingly interrogated the checkout guy as to what time I should get there, where I should stand, etc. He said 6am at the latest, just to be on the safe side, but I knew that I'd be long before that.
So now that I had my copy in hand I walked back down to Madison Square Garden to wait for Michelle to get out of the Springsteen concert. I killed time by knocking back 6 drinks at Mustang Sally's with my favourite Irish bartender. When Michelle got there, we headed back to her new (adorable!) place uptown and caught up a little before we finally conked out around 2am.
My "Somewhere Only We Know" ringtone/alarm jarred me out of bed at 3:30, where there was a brief milisecond in which I thought "Is it worth it? Should I hit snooze?". I ultimately decided against it and got my ass out of bed. This IS Keane we're talking about. :-) I got to Columbus Circle by 4:30. I think my cab driver thought I was nuts when I said "Right here" and pointed to the dark, desolate Time-Warner building but then again, as a NYC cabbie, I'm sure he's seen much weirder things.
As I got out of the cab, a guy walked up, pointed knowingly and said "Keane?". I said yes, and we became fast friends. :-) (Shout out to Wil! Whoo!!). I got a bagel from Starbucks and we just chilled and waited for other people to arrive. Both of us were surprised (but glad) that no one tried to sleep out actually. Maybe the rest of the world isn't as crazy as we think. :-)
A short while later, our new friend Pete showed up, followed shortly by Alejandra and Lisa, as well as a few more great people whose names escape me at the moment. The time actually went by pretty quickly. It's amazing how easily you can form a bond with people simply by waiting in line with them. It was all very fun-loving and friendly. That is, until we heard that people were lined up inside the building upstairs, at which point our mellow, Keane-loving sides disappeared and we became belligerent. I swear if security hadn't gone up and told them to come down and get in line with everyone else, there would have been a riot (with Wil and I at the healm). Thankfully security sent them packing and all was right with the world again.
At 8am they came down and separated us into 2 separate lines -- those with CDs and those without. I thanked the sweet Lord at that moment that I'd made the trip up the night before. Sadly, three of our line buddies got screwed by this method as they somehow ended up pretty far back in the "without CDs" line, despite having gotten there not long after I did. When we got upstairs, Wil and I actually tried to remedy the situation, but the girl said there was nothing she could do. I just hope it all worked out for them. :-(
We got our wristbands in the order that we showed up, so I was able to rush back to Michelle's and make myself look remotely presentable. Earlier in the week I made a shirt out of the "If Keane Were On South Park" picture that I made a few months ago in a moment of sheer boredom. I have to admit, even I was impressed with how it turned out, and I was really excited about wearing it. This was the picture I made: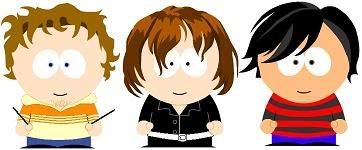 Whoever invented iron-on transfer paper, well done you!
I got back down to Columbus Circle around 10:30 and met up with the gang again. We were right up front, but there was a large space in front of us for press and radio station peeps and all that.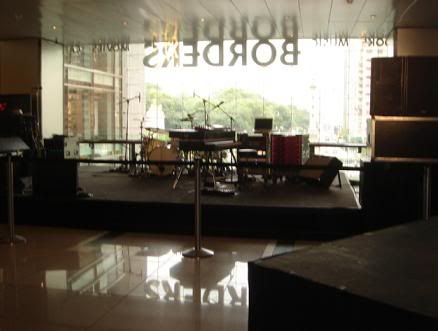 The Time-Warner building wouldn't allow us to sit down (bastards!) so it was another 3 hours of standing in one spot (which, is it just me, or is that worse than actually walking??). It was during this time that I met the HILARIOUS Kat, who would later become my partner-in-crime for the evening (more on that later!). That time too, went pretty quickly, although there was another near-riot when, just minutes before the band came out, security moved the flimsy barrier up a bit, causing many to lose their spots in front (not me because I'm a maniac, but still). When Keane came out, it was all of about 30 seconds before we crashed through the barrier into the press/radio station area. I was about 2-3 people back, but since I'm the height of a hobbit, this is about as good as being 100 people back. My pictures didn't come out as well as I'd hoped because the light was shining in from behind the band, but was snapping away anyway. Behold:
Some blurry Toms...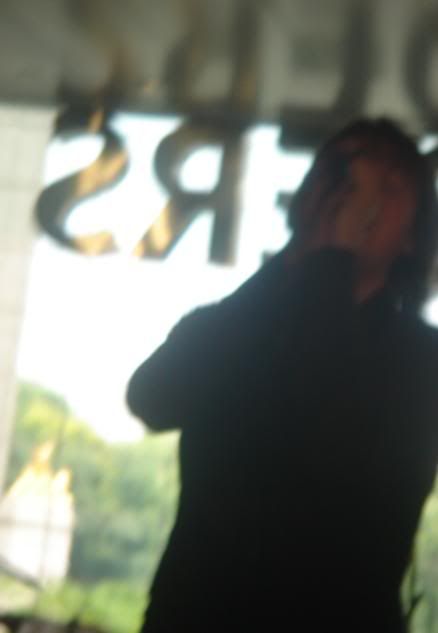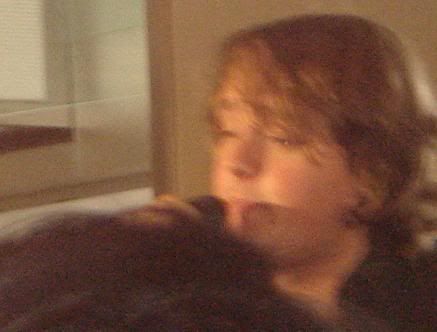 Some dark Tims...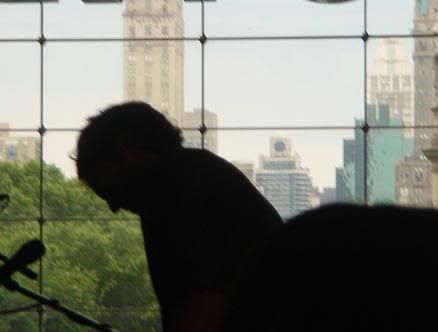 And an almost unrecognisable Richard.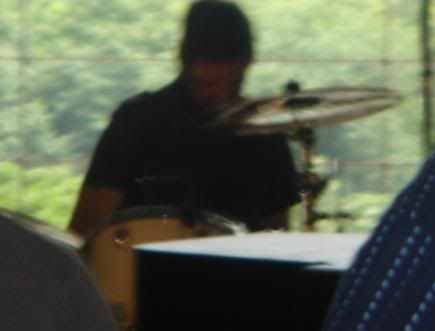 It's a wonder I'm not a pro photographer.
The following picture was not taken by me, but by Beanhugger from the Keane forums, who was kind enough to let me post it here. I think it's safe to say it's the best picture any took during the whole day. HI-LAR-I-OUS!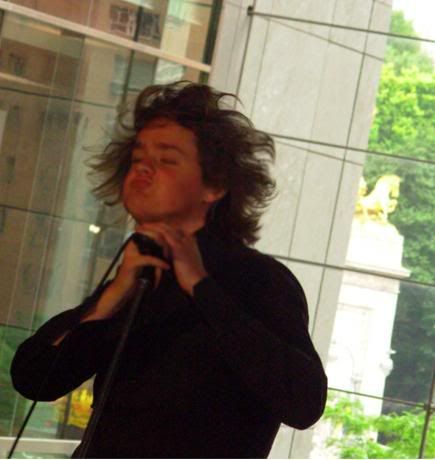 She got it at the PERFECT second! You couldn't do that if you tried! *Applauds*
The mini-show was amazing, but the 4 songs definitely went by insanely fast, especially considering the amount of time we waited. I calculated that in total, I waited about 2.25 hours for each song. It's probably sad to admit it, but it was SO worth it.
Since we had the lowest numbers in the group, we went in first to get our CDs signed. The way they did it was to take the first 25 people (in no particular order) and send them in, so I actually ended up about 10th or so, rather than second, but that was of little importance. Lisa snapped this cheesy (if not slightly pathetic) shot of me as we got closer to the table.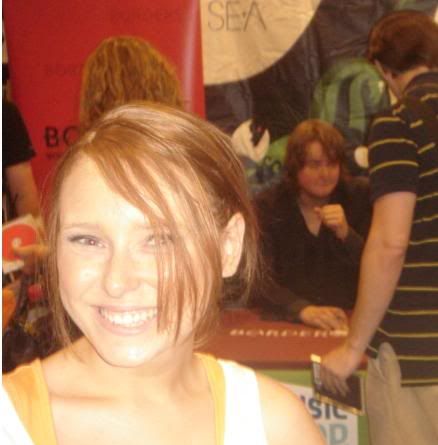 I deserve to smacked. :-)
I should say at this point that I'm actually not a huge fan of these formal "meet and greet" type things because I think all they serve to do is get people excited about "meeting" their favourite artists, only to be rushed by, assembly-line style with nary an upward glance from the idol-in-question. However, in this case I was willing to make an exception because when Keane explodes in America like they have in England, that will be the end of ever meeting them casually in the street or after a gig. I figured this might be my last opportunity so there I was.
Anyway, as I neared the table, the first thing I noticed was how absolutely stunning Tim Rice-Oxley is in person.
No, seriously. Like... gorgeous.
Of course he's adorable in pictures and film, but in person, he's likely to make you pass out. Those eyes, my God.
*faints*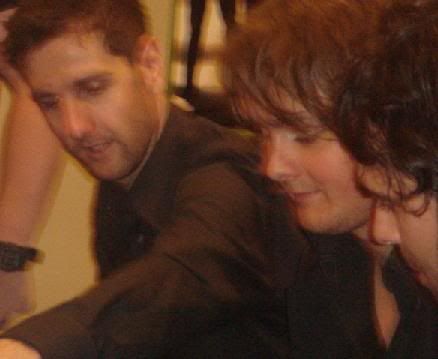 Okay, I'm fine now.
When it came to be my turn, things actually went really well. Just as Tim asked me how I was doing (I can't even remember what I said, but probably something stupid), the lady that was standing with them pointed out my shirt to him. I then said "Do you like it!? I made it!" (dork!!) and he smiled and said "Yes, I do!! Which one's me?" then he looked closer and said "Oh, there I am!" and tapped Tom to show him. Richard then piped up "Wow, South Park style!". I think I babbled incoherently for a minute, when Tom said "You know, I actually do a wicked Cartman impression but I won't do it now. I'll save my reputation." Then I said "Well you can do it next time. I have to rush down to the Bowery now." Richard said "Oh, you're coming tonight? We'll see you there then. Make sure you sing along! The lyrics are in the CD sleeve." :-) (I'm so glad I didn't say "I know all the lyrics already!"). So one of them (not sure which) said "Really love the shirt!" and I said thanks and by and all that and bopped away.
For some reason, everyone got their wristbands cut off except me which actually means nothing, but at least it's something else for me to put in my celebrity book of tricks. :-)
I bid adieu to all my new best friends and hopped a cab down to the Bowery (which took FOREVER by the way, and had no air conditioning). I kindly pointed out to the driver that the "Taxi Rider's Bill of Rights" clearly stated that I was entitled to air conditioning upon request, but he just completely ignored me. LOL.
When I finally got there, I walked up to find the infamous Kat, along with new friends Anna and Shar in line. We took turns heading down to Starbucks for a brief respite from the sun and pee breaks (although I was so dehydrated that I didn't really need one --- TMI, I know).
While we were sitting there, a black SUV pulled up and Tim got out and waved and smiled at us. Richard followed later, and then Tom, who smiled, nodded, and pointed at my shirt (Yay).
The next few hours, while extremely brutal heat-wise, were really fun. The big, burly, slightly frightening security guard even brought us out energy drinks and ice water, which was super nice. Of course the energy drinks had us all jittery and made for quite a come-down about an hour later, but still. V nice.
More and more people showed up and once again a little tight-knit clan was born. Kat farted around with her make-up while I made sure not to sweat my fake tanner all over myself. Tim went by to get some food and on his way back, I took a picture with him. He said "The famous South Park shirt!" which once again made me so glad I decided to go with the whole shirt idea. Now I'll forever be the South Park girl, which is better than being the "Who the hell are you?" girl. :-)
I have to admit, until this day I was definitely a Tom Chaplin girl. I mean, I love them all for different reasons (Richard is a vegetarian, for one!) but Tom was my boy. However, I think my experiences of the day have converted me to a Tim girl. He was just so overwhelmingly sweet and nice and shy and unassuming and everything else. Go Tim.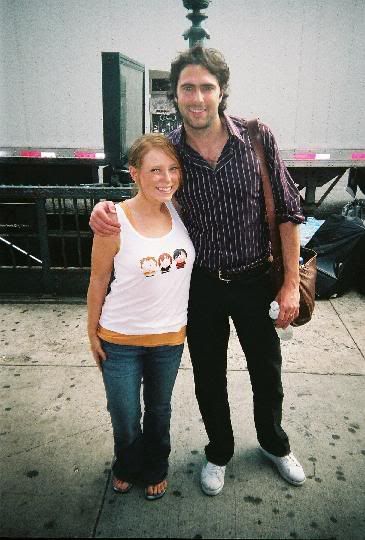 At around 7, the guy who was selling me my ticket (dubbed "Crazy Danny" by Kat) showed up. (As a side note, Danny, THANK YOU so much. I obviously wouldn't have been able to go without you so I honestly can't thank you enough!!! You totally made my night. I'm glad you found my Craigslist ad to be amusing enough to answer. You rule.) :-) Kat's friend Amy (who was a real sweetheart!) also showed up to join in the fun.
Inside the venue, we queued up for another hour and a bit, but at least it was air-conditioned this time. All I can say is that I'm so glad I left the shoes I was planning to wear at home by accident because I ended up in flip-flops and was still dying, so that was a small favour from my guardian angel.
When the doors opened a little after 8, we made an insane dash to the front of the stage, where I was quite literally about a foot away from where Tim would eventually sit. Here is yet another obnoxious (and attractive) picture of me pretending to kiss the equipment.
I did manage to capture several minutes of video footage during different parts of the show, which you can watch here, but I'm warning you that some of it is pretty crappy. I didn't want to get in trouble (since you weren't really supposed to be recording) so I had to be careful, which lead to some pretty choppy clips. I did get the full intro though, which was great (and in which you can see how ridiculously close to Time I was). I could ultimately count the hairs on his arms, I swear.
Anyway, here is the intro. I think the best part is when the girl next to me clearly says "HO-LY SHIT" because of how close he was. It's hilarious. Enjoy!
And here's 11.85 seconds of "Nothing In My Way" for your viewing pleasure!
I should point out that I am NOT -- I repeat -- NOT the off-key singing voice you hear in any of these clips!!!! (Honest!!)
40.27 choppy seconds of "Bend and Break"
"Try Again" is my favourite song on the new CD and this is a clip of my favourite part. Once again, the voice you hear singing along is NOT me. I consciously made the effort to shut up so my (equally off-key) voice didn't drown out Tom's. Obviously someone didn't agree, but it's still a pretty good clip!
""
"We MIIIIGHT as WEEEEELLLLLLLLLLLLLL..."
""
So, there you have it. Like I said, not the best of clips, but it's good for the people who weren't there to get an idea of what it was like. Oh, and feel free to download the pics and use them as you please, but all I ask is that you either let me know or link me?? Thanks!
Here's a bunch more still shots, too.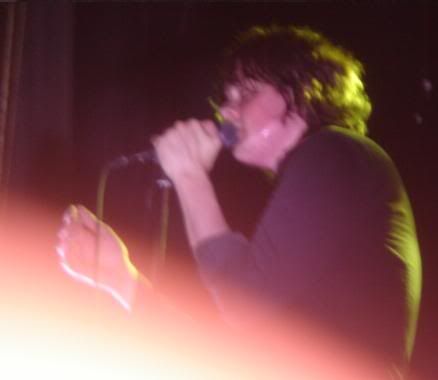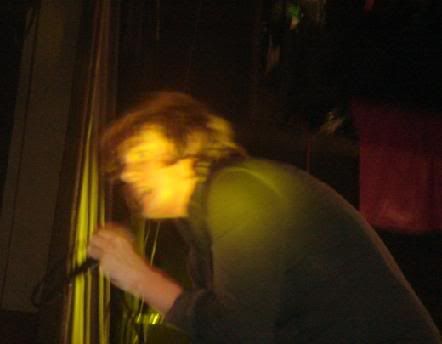 Tom looks a little insane here. I like it.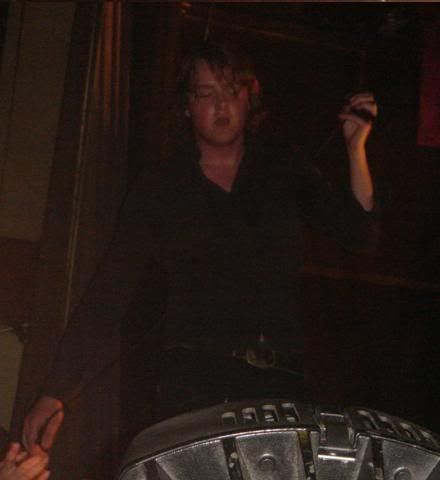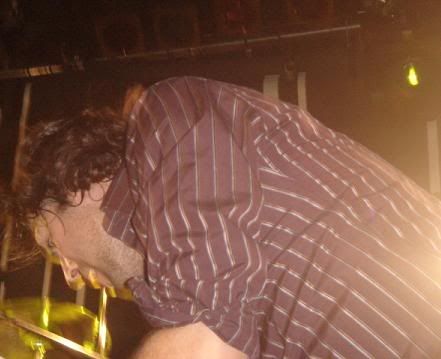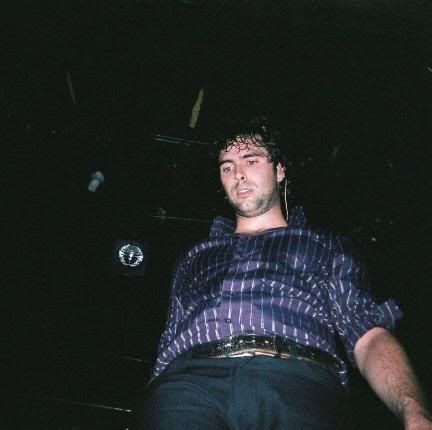 Tim looks exhausted!
I love this one!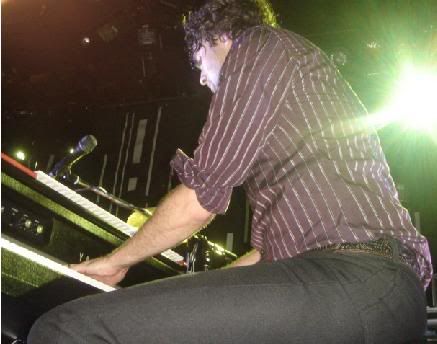 This is as far as the camera would zoom out!
I still can't believe how close we were. I've seen many, many, many shows, the majority of them from the front row, but none of them were ever like this. As Kat pointed out to Michelle afterwards "She almost got kicked in the face like 8 times!!" (true!). By the end of the night I was covered in more of Tim's sweat than my own! Before they left the stage, he reached down and shook my hand and said "Thank you" which was obviously a really great end to a great show.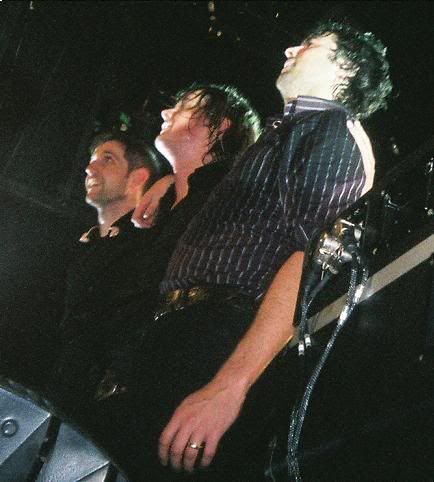 I obviously didn't learn my lesson after my "Viral meningitis from Morrissey's teacup" debacle because here I am just after the show ended, with Tim's water bottle. When will I learn??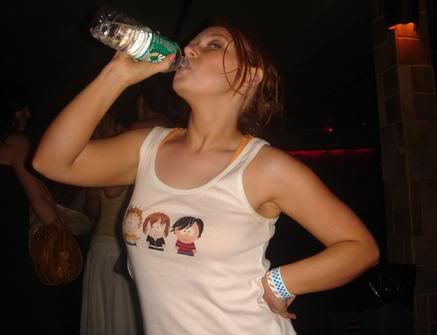 After the show, stalkers that we are, we waited outside for the band, who was unfortunately rushed, but still managed to profusely thank everyone and say goodbye. The whole experience was just life-alteringly good. I cannot wait to see them again.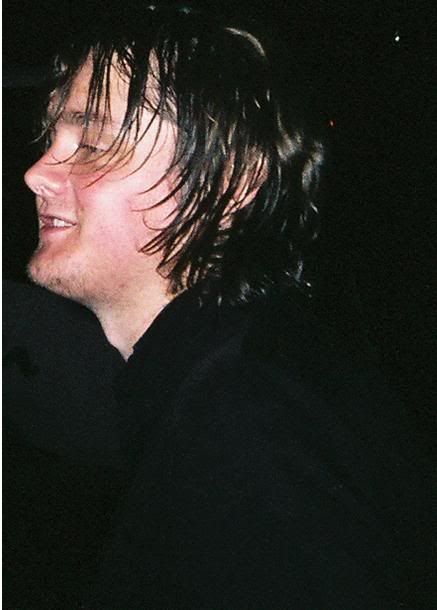 Kat and I then hopped in a cab and headed to Chelsea to meet up with Michelle and our other friend Katie. The driver probably wanted to beat us senseless because we spent the entire trip saying "Did you see when Tim..." "Tom was SO pointing at you!" "Oh my God it's like I'm high right now!..." "etc. etc. I felt like I was in middle school again! Kat said "They met SO many people today but right now they're probably in their car saying "How about that girl with the South Park shirt?" Hahah... I hope so!! We half-jokingly toyed around with the idea of taking "the Chinese bus" to Boston to see them again on Saturday, but ultimately decided against. All I can say is that if she had pushed a little harder, I would have totally been there. We've already got a Keane mini-tour lined up for the Fall, so that should be awesome. :-)
We also joked that the bar we were going to wasn't going to let us in because we were so disgusting and smelly and Kat said "Yes, and we'll say *sniff* 'It smells like KEANE, doesn't it?'" For the record, we got in, but we were definitely the smelliest, dirtiest ones there!!
All told, it was seriously one of the best days ever. And do you want to know the most amazing part about it for me? Without sounding poncy, after my
adventures with Duran Duran
and
Morrissey
and
various
other
artists
, I've gotten pretty spoiled. I'm not really used to having to pay for tickets anymore, or wait in line, or not be able to go to afterparties and stuff (again, not to sound like an a-hole, but it's hard not to get that way). But with this, I paid (out the wazoo, no less) and I waited (for hours and hours and hours). I had no All Access pass, and I went to no afterparty. Keane did not invite me to tour the UK with them, and I did not get to hang with their families. None of the luxuries that I've gotten used to were afforded to me this time and it DID NOT MATTER. It was still completely amazing. I even broke my "no more buying merch at concerts rule because I know how cheap it is to make versus how much it costs" rule!
And it was ALL worth it. And that's saying something.
Anyway, I guess I'll shut up now. Thanks to everyone for such a great time! Michelle for housing me, Danny for the ticket, Kat for being my co-hort (and taking the awesome pic of me and Tim!), and all my line-buddies for making the day go by so fast, and of course Keane for being the most talented sons-of-bitches around! Can't wait to do it again!