Well folks, it's that time again. Time for Miss Marnie to hop on a plane, Destination: London. My good friends Richie and Sam are tying the knot next week in Buckinghamshire (my resident stomping grounds when I'm abroad) and there's no way I'd miss it. Why not turn it into a full-blown vay-cay, right?
It's going to be a very short trip, but an eventful one. I've got every short day booked with all kinds of fun activities, with all kinds of fun people, and I'm very much looking forward to it. In fact, I cannot wait. Not only is England my home away from home, but if there's any city in the world where I'm going to find
those shoes Lindsay Lohan wore recently
, it's London.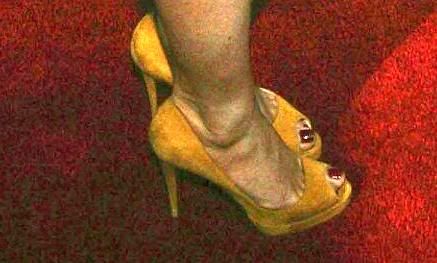 Seriously. Must. Have. These.
Probably won't be updating much while I'm gone, although I said that last time and I was able to squeeze in a few so never say never! Keep
an eye out
. I'm sure I'll have plenty of fun stories to share.
And if not? A few days after I get home, I'm heading to Vegas with the
same group of British lovelies
... and that will CERTAINLY make for some 'fun' stories. I've loaded up on the "Chaser Plus" hangover remedy and I'm ready for action!
Try not to miss me too much!
Seacrest out.