What? I don't know. I needed a title.
Sorry for my absence of late. Lots of stuff going on in the busy life of Miss Marnie but I can't be letting the blog become the forgotten stepchild! Plus, you know what they say about absence!
So what's new in El Mundo de Marnie?
The Bad News:
I'm ill at the moment. I woke up this morning feeling
under the weather
... like
miles
under the weather and I had to stay home from work. I'm sure with it being Labor Day weekend and all, that looked really good to my boss, but a girl's gotta do what a girl's gotta do. Especially a girl with a very sore throat!
I was also supposed to spend some long overdue post-birthday QT with
Kyle
this weekend, but I had to put the kibosh on that as well. Then again, seeing as I was planning on taking him to a water park and
good ol' Ernesto
is slated to wreak havoc upon the East Coast, perhaps that's for the best as well. Waterslides and thunderstorms don't mix!
The Good News
It would appear that Tom 'Love of My Life' Chaplin, has sorted himself out, and all of the Keane shows that I have tickets to have been rescheduled, mostly for later in September. One of them's not until January now, but maybe that's better. Obsessive as I am, I should probably only have Keane in small doses. :-)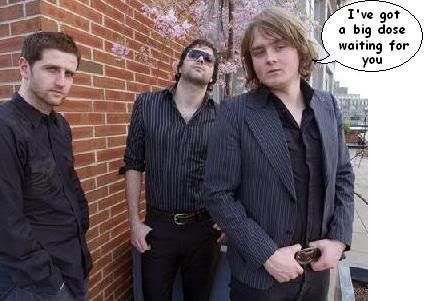 Considering doing something very cool in October as well, but more deets on that later. Should be good!
In the interim, I promise plenty more of the retarded celebrity goodness that I've been lacking of late! All systems go!