For the past few days, I've been observing how Clay Aiken has been looking a bit... well... womanly of late.
Let's review:
What's New With Clay Aiken?
What's Even Newer With Clay Aiken?
There's someone that he looks like, but I just can't put my finger on it. I thought perhaps it was KD Lang, but I don't think that's it.
Oh, man, come on... it's on the tip of my tongue!
Who could it be?
...
Oh yeah. Me.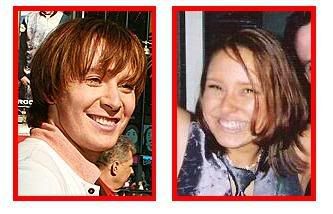 HA!
PS This in no way changes the fact that I will be stopping at Best Buy after work tomorrow for his new CD. So there.