Lately there's been a lot of talk about the fact that
American Idol
let former contestant Jennifer Hudson slip through the cracks, only to have her go on to win a Golden Globe, a Bafta, and probably an Oscar, among countless other accolades for her performance in
Dreamgirls
.
The thing is, I think they may have done it again.
Did anyone else notice that the 19 year-old Robyn Troup who was eliminated from the Hollywood round on the show last night, is, in fact, the very same Robyn Troup who sang with Justin Timberlake on the Grammys on Sunday?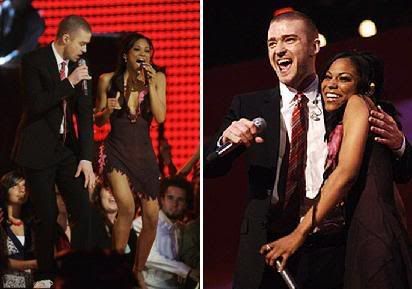 How ironic that she got kicked off during that round months ago, and now, before the show has really even got going, she's already "been there, done that" with one of the world's most famous singers? AND, like Hudson, she's getting rave reviews?
Meanwhile, where the HELL are Fantasia Barrino and Ruben Studdard this year? Idol got it right with Carrie Underwood and Kelly Clarkson, but it would appear they need to step up their superstar-searching game.