How else could we explain this?
The Cure Team Up With Ashlee Simpson
The Cure frontman Robert Smith has teamed up with singer Ashlee Simpson for a collaboration on her new album.

The as-yet-untitled album is the follow up to 2005's I Am Me.

Fall Out Boy's Pete Wentz denied any involvement in putting the unusual pair together, even though both of them are his personal friends.

He said: "I doubt I had anything to do with it, 'cause they were friends since she was performing in Chicago. But I definitely only have good things to say about Ash--I think the collaboration could be great."

Simpson is also known to be working with Keane's Tim Rice-Oxley, Chad Hugo from the Neptunes, and John Legend, reports Entertainment Weekly.
I'm hyperventilating right now.
Seriously, people! ASHLEE SIMPSON??? Does no one remember what a musical joke she is? Sure,
she's pretty now
, but that doesn't make her any less of a nightmare. I expect more from Robert Smith, and CERTAINLY from
Tim Rice-Oxley
!
*sigh* At least I know Morrissey will never do this to me.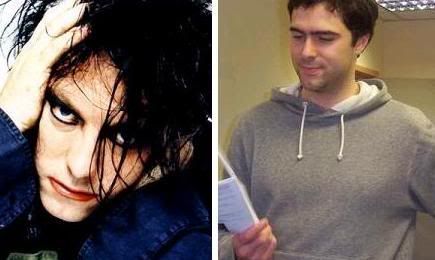 Even they look disappointed in themselves.
UPDATE:
Oh, thank fuck!
From
keanemusic.com
:
In other news, word has it that you've written some songs for Ashlee Simpson.
Ha, yes! I don't know quite where that came from. I have been asked to do quite a lot of things in the last few months, partly in the wake of the Gwen Stefani song, which is very flattering. It's nice to be in demand, but the Ashlee Simpson thing is not something I'm planning to do.


BIG sigh of relief!
And as an added bonus, note the underlined, proverbial slap in the face to Ashlee...
Perhaps there's a foppish young Brit walking around LA pretending to be you, offering to write songs.
That could be it! But I enjoyed working in LA with Gwen a lot and I have done some work with Nicole Scherzinger from the Pussycat Dolls as well.
Both of those people are really incredibly, genuinely talented musicians.
So I learn a lot from doing it. But I've not got anything else I'm planning to do at the moment. I just want to focus on Keane as much as possible. It's very easy to get distracted, especially because it's so flattering to be asked to do stuff. But the band is far and away the most important thing in my life.
I knew you wouldn't do this to me, Tim! We can be friends again now. :-)
Robert Smith -- you still have some 'splainin to do!
(Thanks to Susan for bringing this to my attention!)