*Disclaimer*: The time stamp here is going to be messed up because I've had this post written for weeks, but I was too busy/lazy to upload the pics. The fact that I'm an ass has been duly noted.
-------------------------------------------
Would you look at that? I've been back less than a week and I'm updating the site! It's a miracle!
Is my suitcase unpacked? Nope. But a girl's got to prioritize.
Now, let's get right to it!
I'm going to skip over how the exchange rate is now $2.20 to the pound, for fear of bursting blood vessels in my brain. And anyway, as you'll read in a second, that horrible rate is going to be working in my favour in less than 6 months time, so all is right with the world!
So I flew into London on the morning of July 7th (Happy Birthday,
Matt!
) and it was pretty routine, in that I once again got hassled at immigration by some idiot who thinks I come to England too much -- so something
must
be shady, right?
After that it got weird. I was at the baggage carousel collecting my worldly possessions and GUESS WHO I SAW AT THE CAROUSEL NEXT TO MINE??
KEANE'S CREW!!
Ha! What the hell are the chances of that? They were coming in from Amsterdam and going to Live Earth that day. I talked to them for a bit and of course did the obligatory "Tell the boys I said hi!" because I'm a nerd. Seriously though. Weirdest thing ever. Sometimes when I'm not even
trying
to stalk, it just happens! I'm kind of glad the band wasn't with them or I'd have felt the need to explain myself.
"No! It really is a coincidence! I had no idea you'd be here!"
Haha.
Anyway, Sam and Richie fetched me and before heading home, we made a pit stop in Marlow so Sam could get a new belly button ring and my ridiculously vain self could get a spray tan done at my beloved
Sunrise
. (What? Have you SEEN how pale I am??). After that we went to the pub where I drank several glasses of champagne. Not off the plane 2 hours and already getting drunk. Yay England!
It was soo good to be back in England but truth be told, by stomach was in knots. For 6 months, I'd been holding in the very exciting and life-changing news that I'm FINALLY going to be moving to there! I don't talk about my past immigration perils on here very often, but anyone that knows me know that I've devoted many years and much manpower to moving to England and have had several proverbial doors slammed in my face. Long story short, there's been a few changes in the immigration system and I finally fit into one of the schemes. It will be all systems go soon, and in approximately 6 more months, I'll be a full-fledged, legal resident of the UK, enjoying the exchange rate (for once) and taking cheap holidays like everyone else! And oh, what a glorious time it will be!!
Anyway, for some reason I was really nervous to tell everyone, which I did that night, and now I can breathe easy, and talk about it freely. Like a lead weight off my shoulders, I tell you!!
To celebrate, I continued to drink my ass off at the pub with Glennie and Mondo, whilst everyone else went to a wedding. I got sufficiently drunk enough to fill Mondo and Glennie in on the benefits of Brazilian waxing, and also to the point where I don't even remember going inside the pub, which we obviously did, according to these pictures.
After I got dropped off (by who, I don't remember) I did managed to fall in Richie and Sam's house, cutting my wrist and cracking myself up in the process. The next thing I remember, it was morning, and time to go to Spain!!!
To save you all from the indignity of having to pretend to have read my ramblings once again, the rest of this post is mostly a pictorial. I'm barely going to break it down into days. Just look at the pictures and enjoy. As they say, a picture is worth a thousand words. So here's about 216,000 words.
The face of an angel.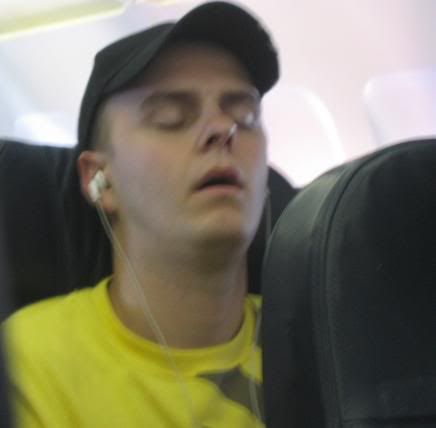 (Of course I mean that guy in front).
This day was the longest day in the history of Earth, by the way.
This was our villa...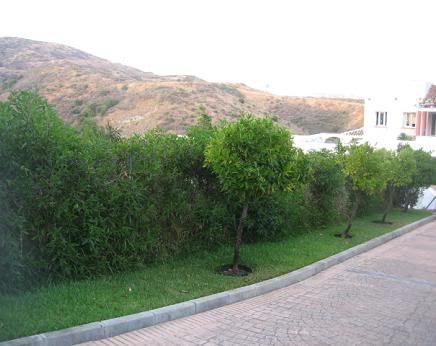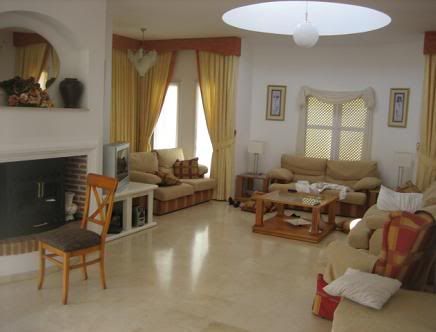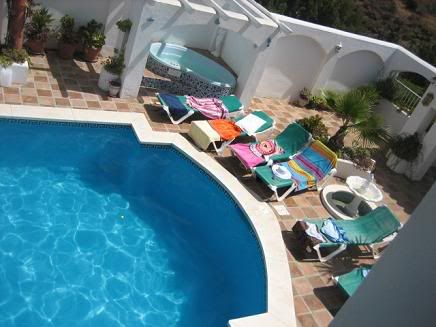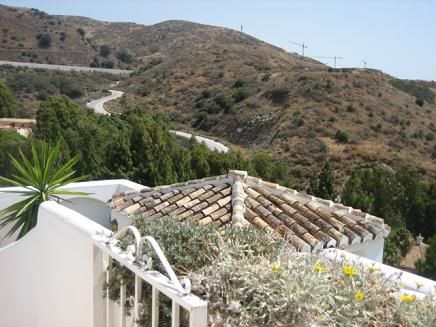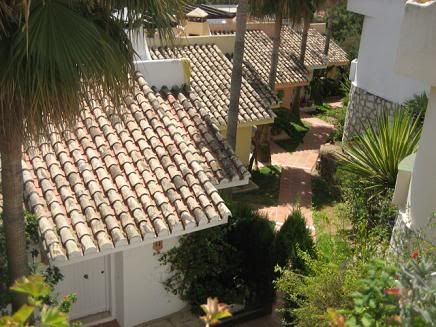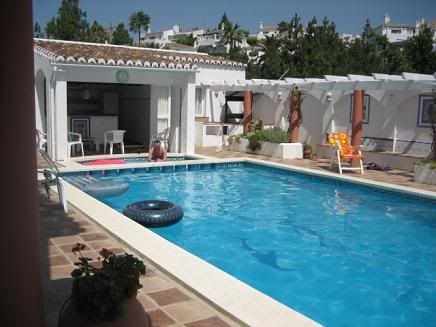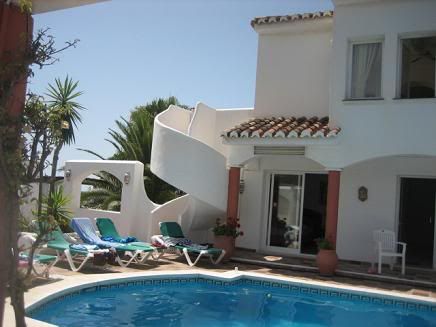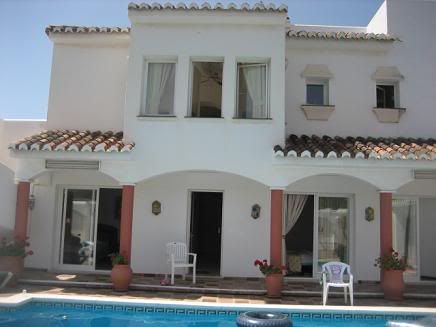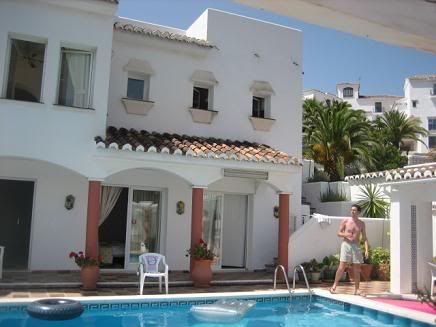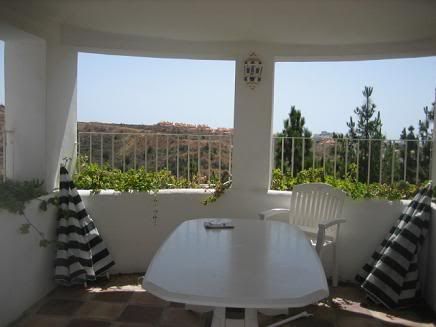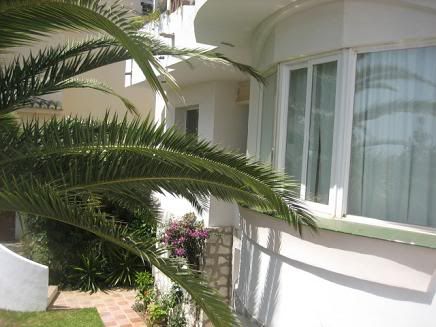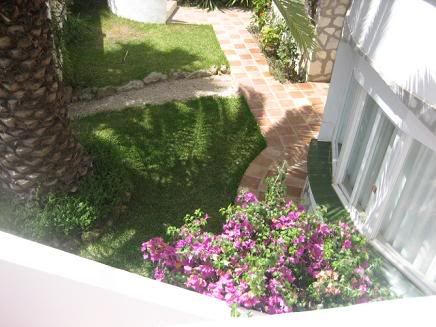 Pre-gaming before heading to the Chinese restaurant...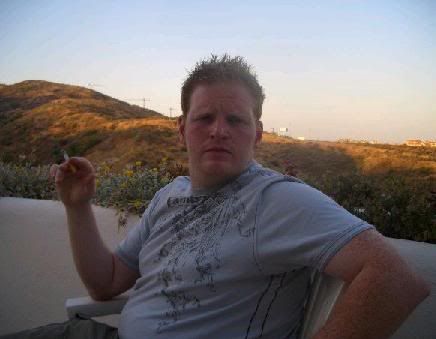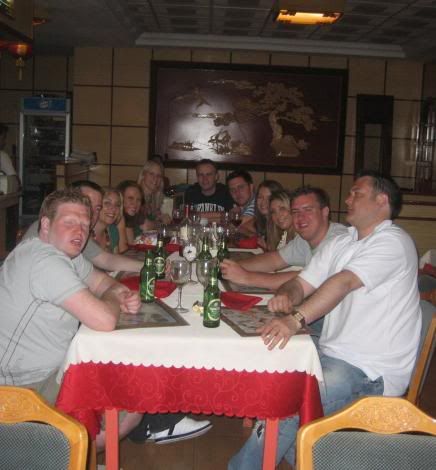 I love the seriousness of Mondo in this one.
Of course we end up at an Irish pub...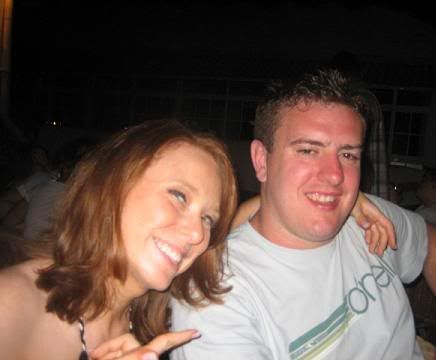 Me and my roomie.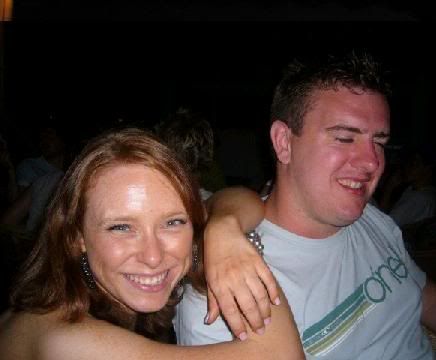 I'm starting already.
The drinks are slightly larger in Spain.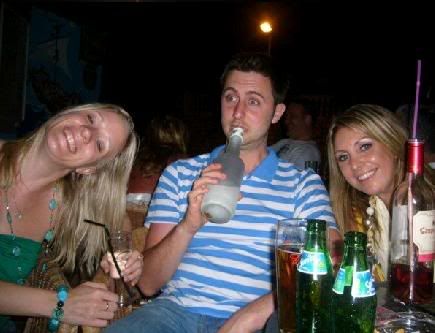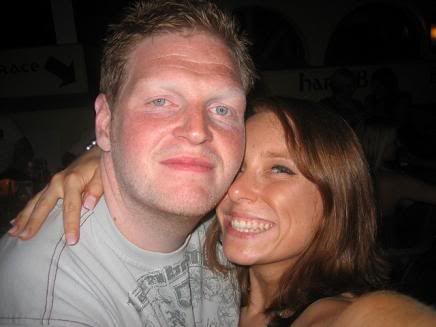 I'm getting sloppy now.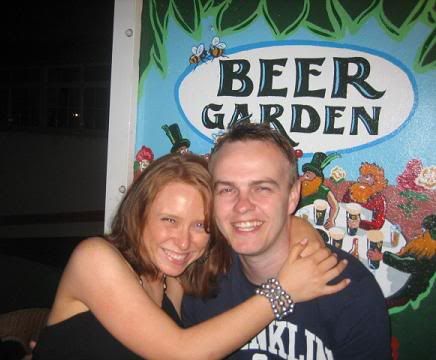 The debauchery continues at home...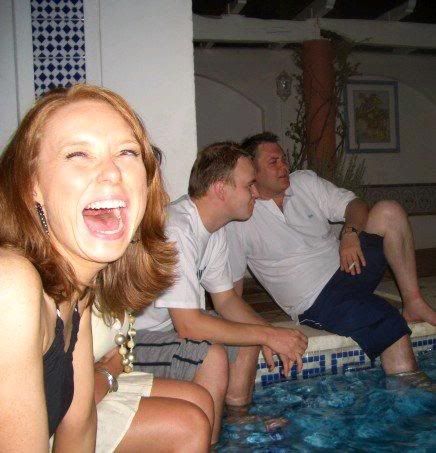 Good God.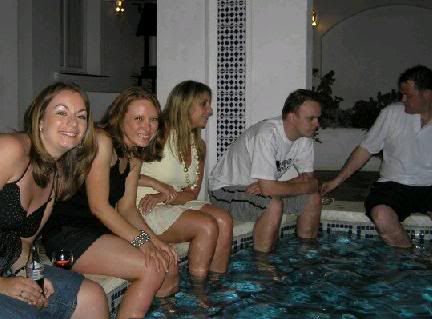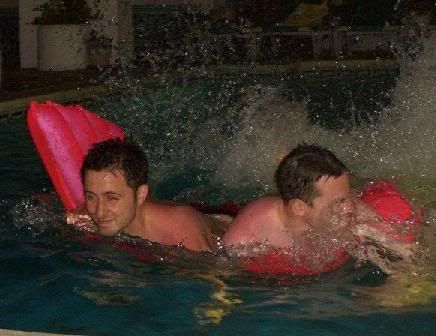 Late night swimming.
And yet we somehow make it to morning...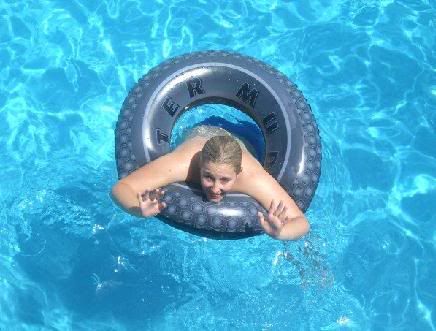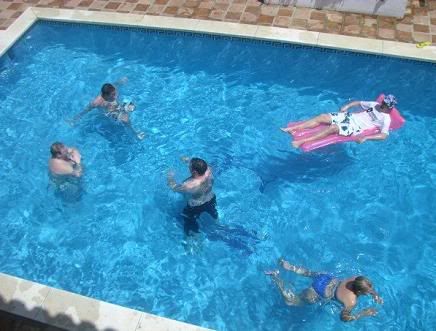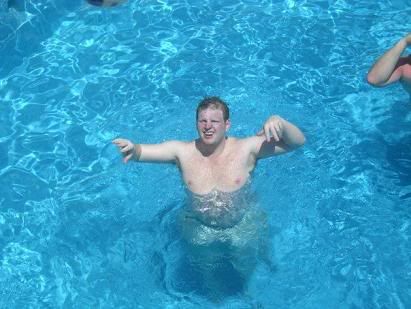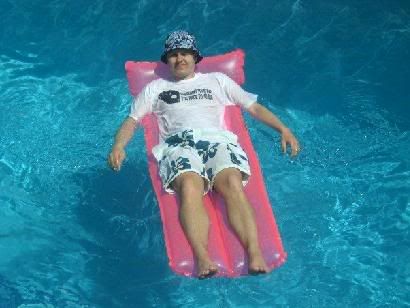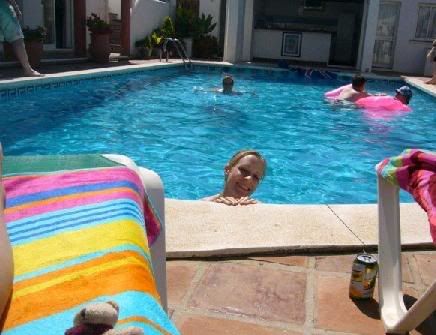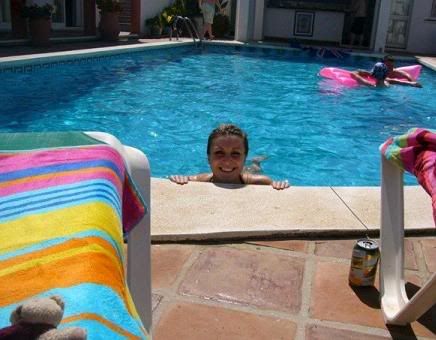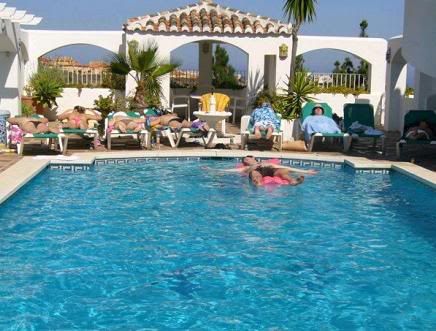 Note how I planted my pasty ass over in the shade, where I remained all week.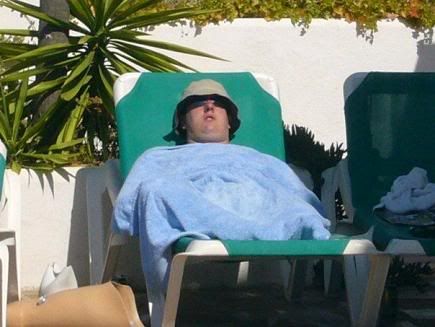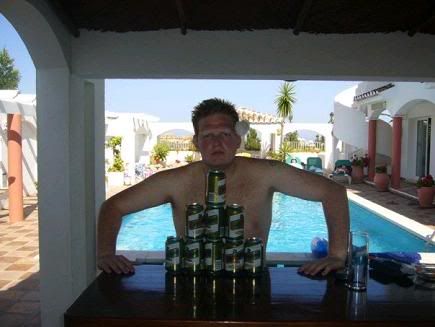 'Riccardo' at your service. (That's not a flower by the way -- it's a toilet brush)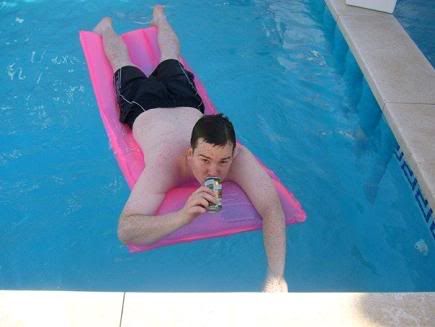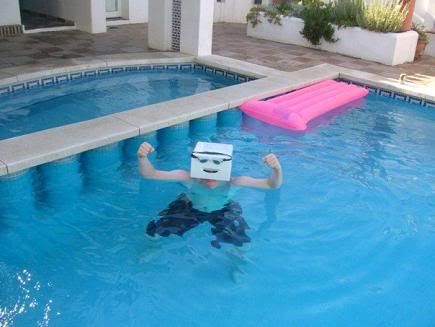 "You were there!"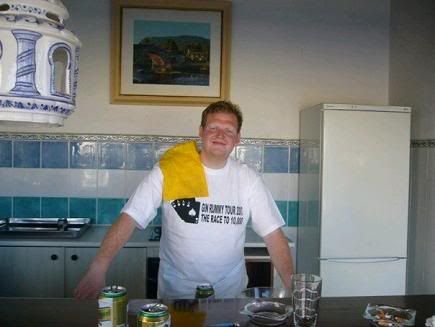 ¿puedo tomar su orden?
"We don't serve your kind here"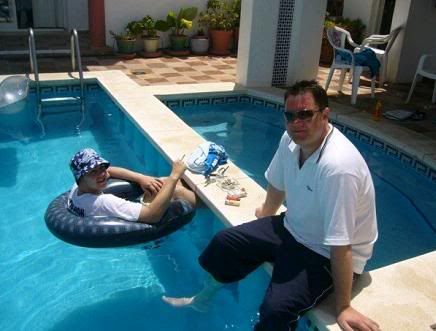 The smoking section.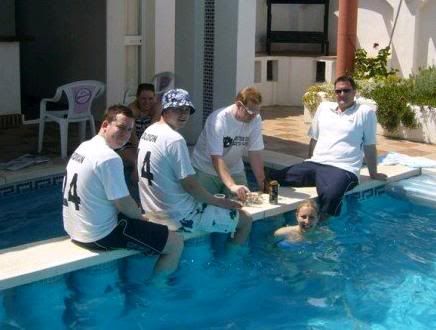 Rub-a-dub-dub
Thankfully these two don't ever plan on running for public office.
Eat your heart out, Spice Girls.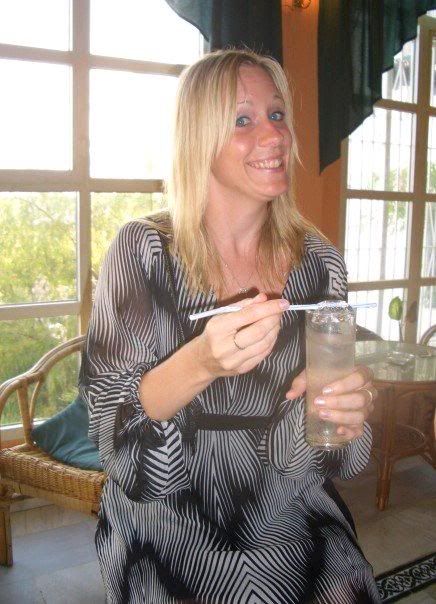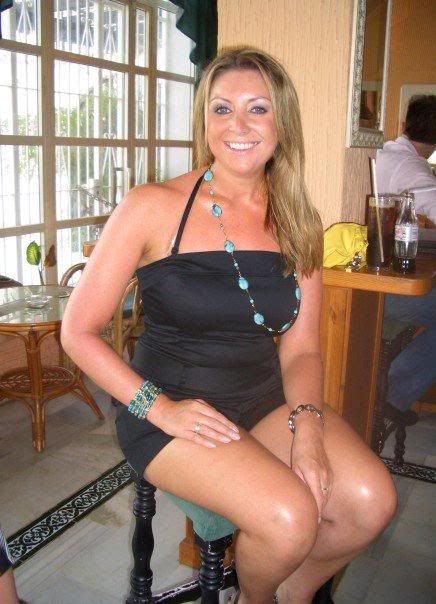 Puerto Banus...
<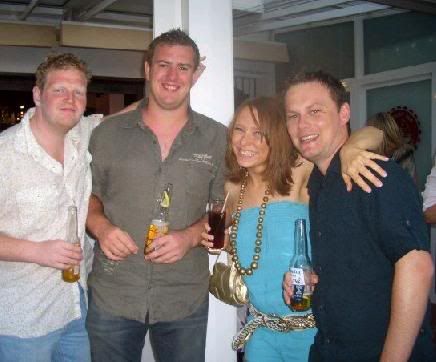 Because you need to see three versions of this.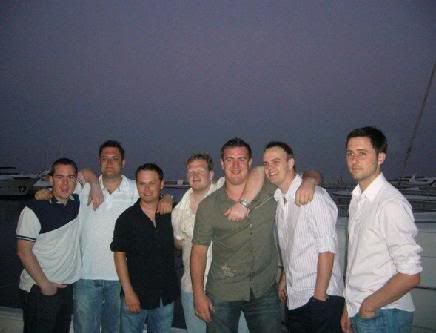 And two of this.
Hijinks at "Jacks American Bar and Grill"...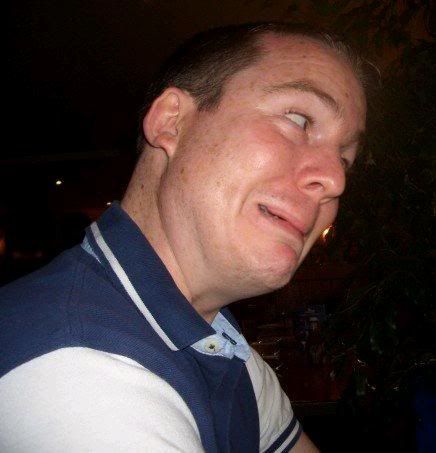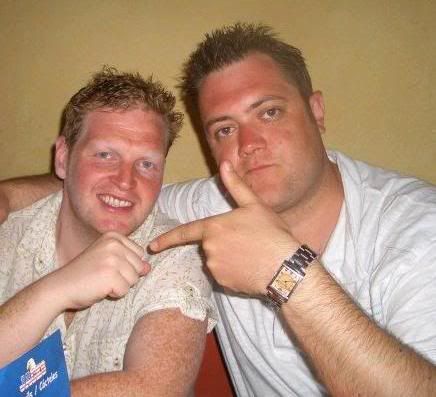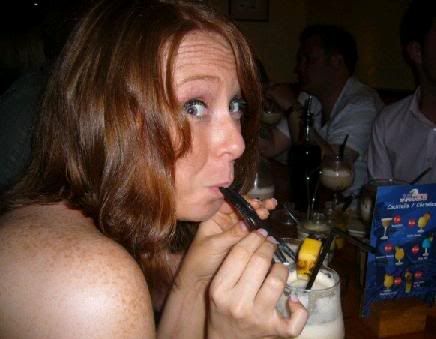 Never just one drink at a time.
Linekers -- There was a pole there...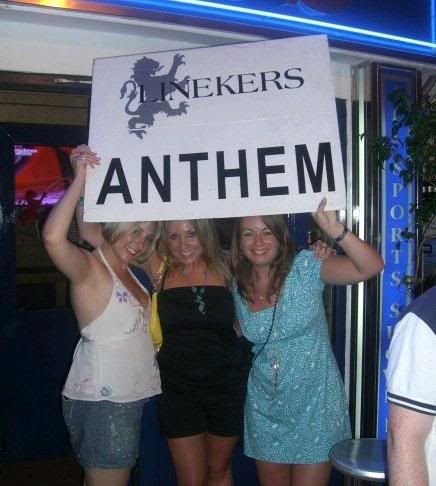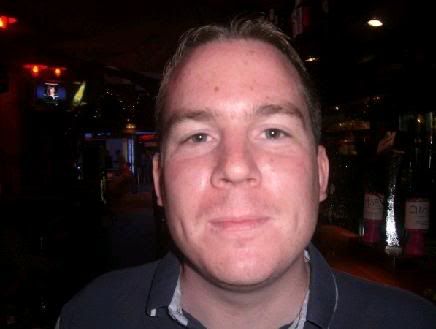 See?...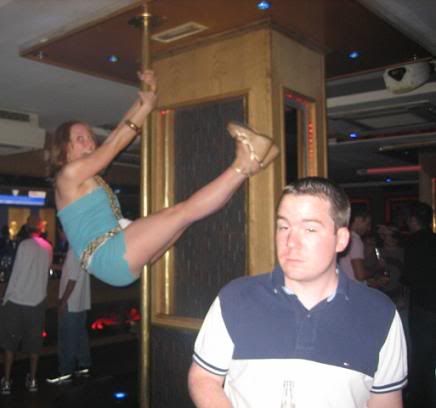 To think how I could have injured him.
Jo is obviously more impressed than Tom.
I think we may have missed our true calling.
Sure. It's all fun and games until someone gets hurt!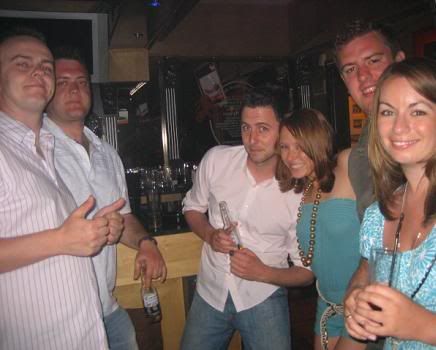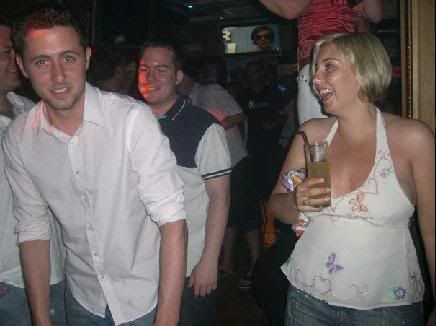 The Piano Bar...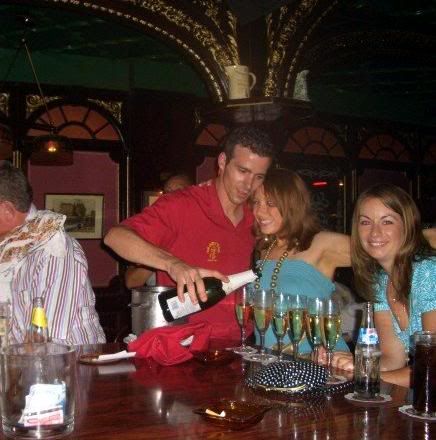 This is Francisco.
Sometimes I think I should be muzzled.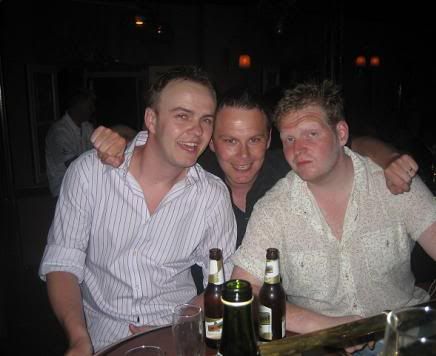 Tom looks about as impressed with his kebab as he was with my pole dancing.
And the sun rises again...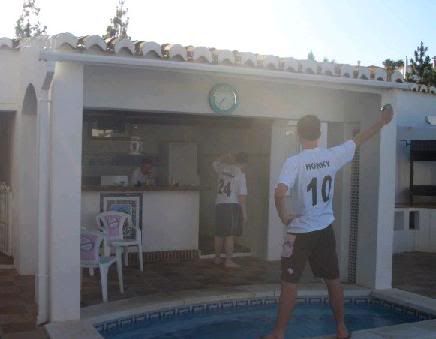 Curious about what I was so engrossed with? It was
this
.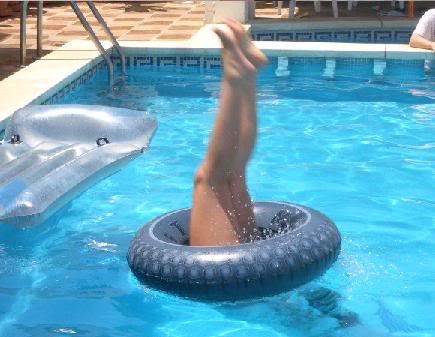 I'm not quite sure who this is, but they sure are talented.
The "Chair Incident"...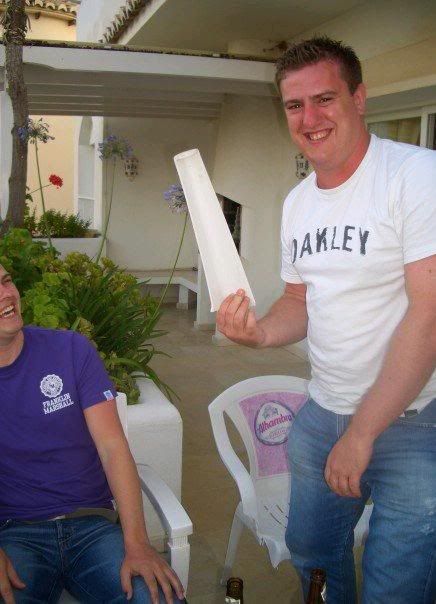 He couldn't have executed it better if he'd tried.
Marbella...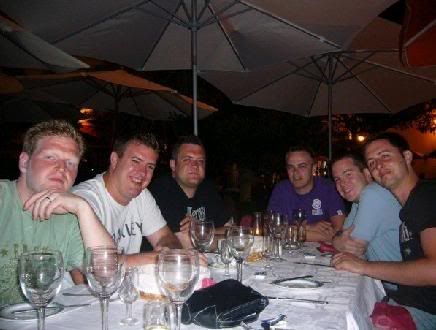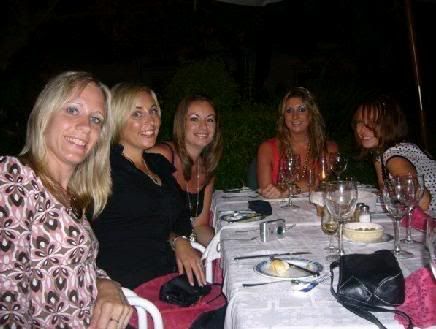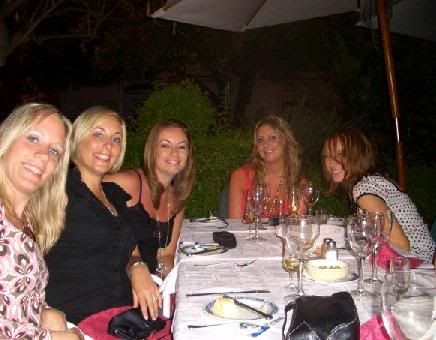 Carrying on back at the villa...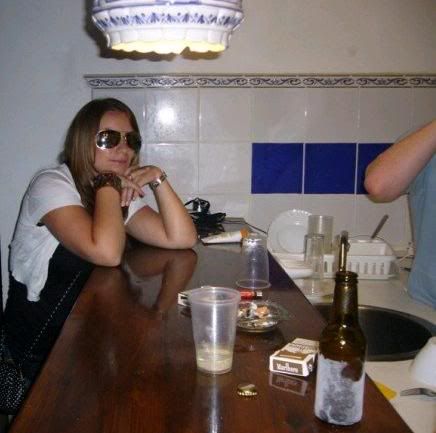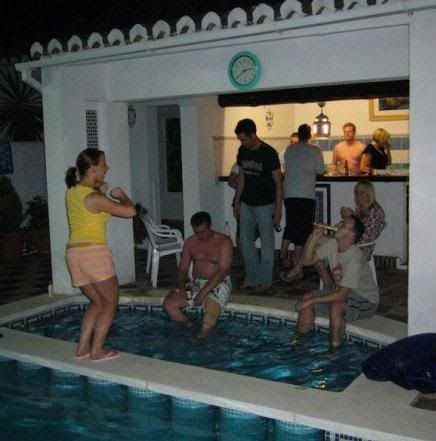 I have no idea either.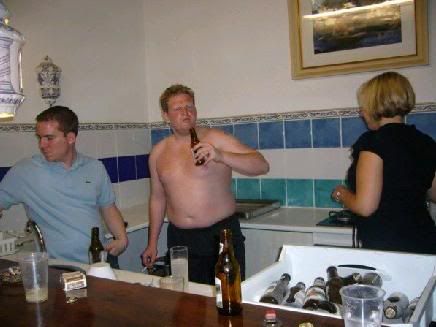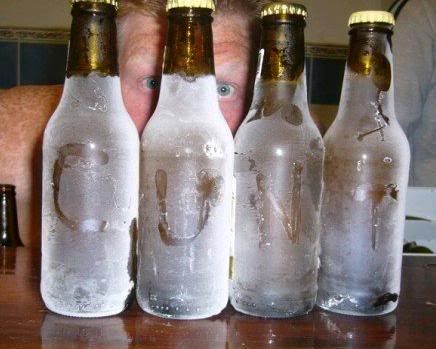 C U Next Tuesday!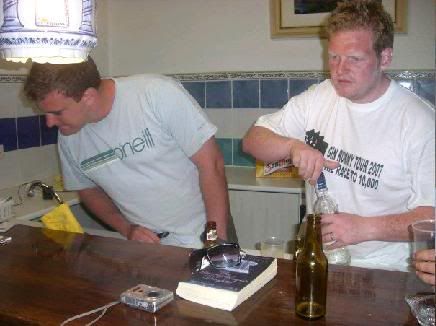 The next day held some true horrors...
The tan line to end all tan lines.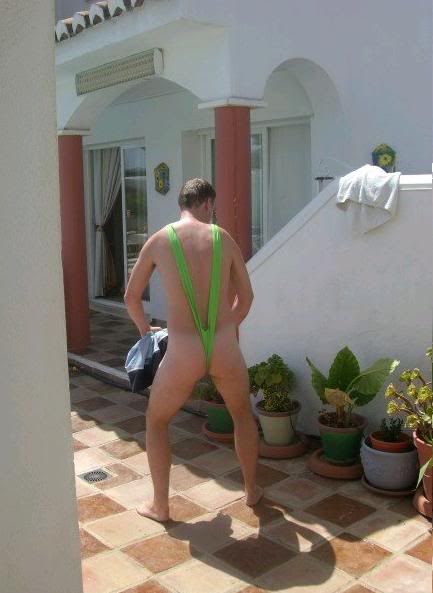 Did I forget to mention this was NSFW? Whoops.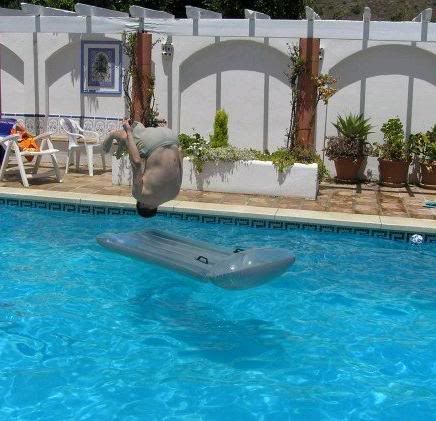 Like I said -- all fun and games until someone gets hurt.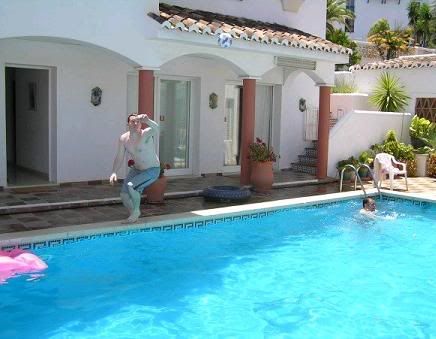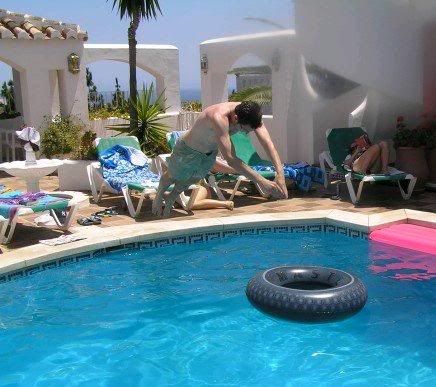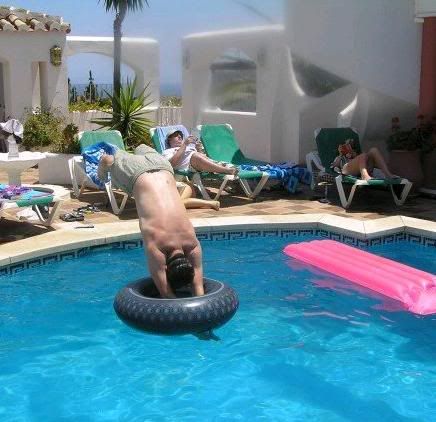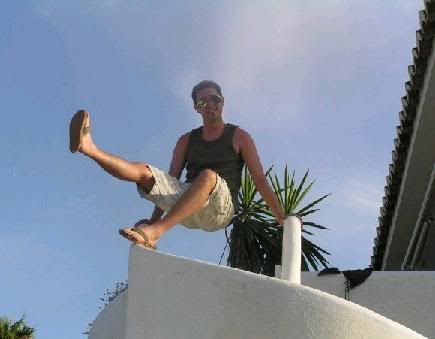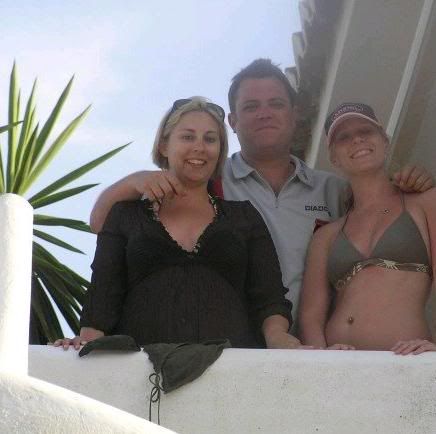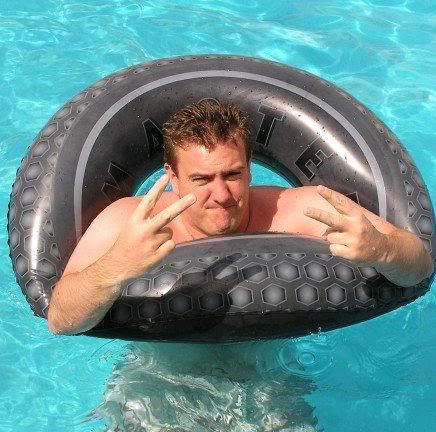 He's not giving peace, folks.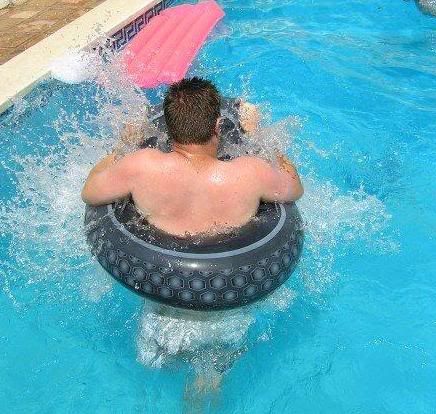 The human wave machine.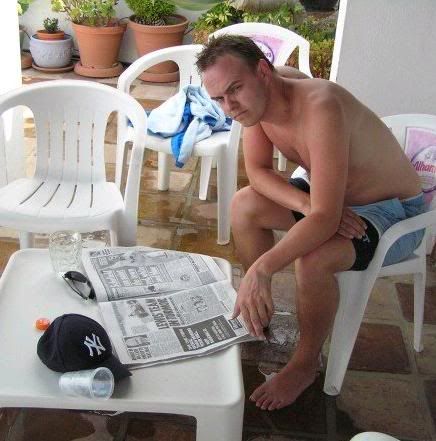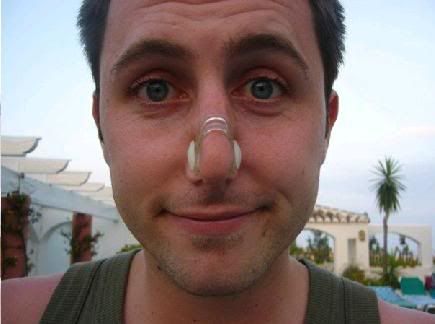 Our 12th roommate -- the nose peg.
5pm Gin and Tonics!
Preparing for our barbecue...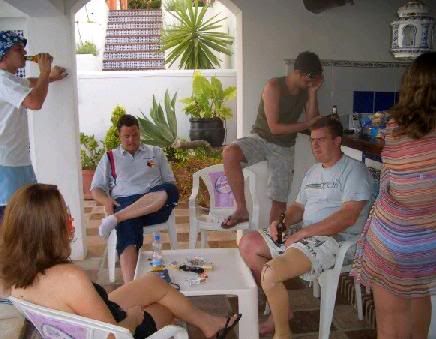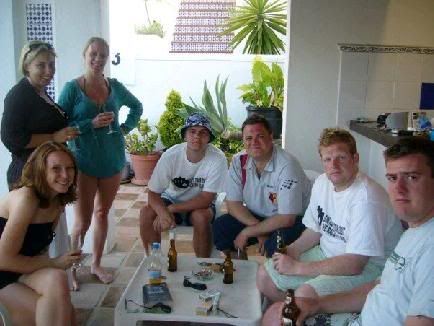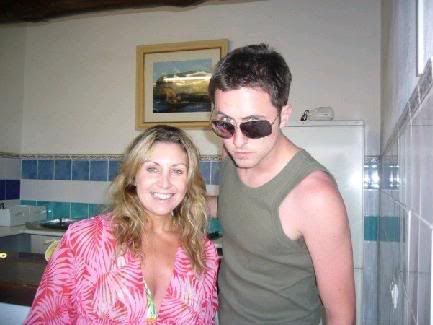 The foil-covered things are my vegetarian things. Geniuses, us.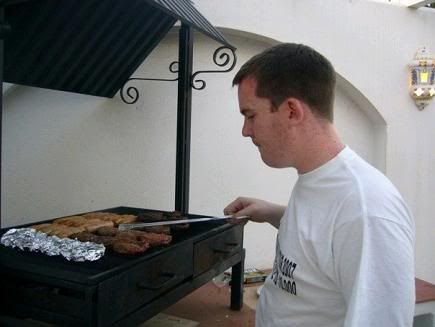 Jamie Oliver and
Ainsley Harriet
Emeril better watch their backs.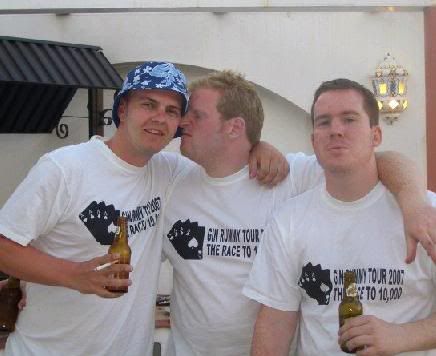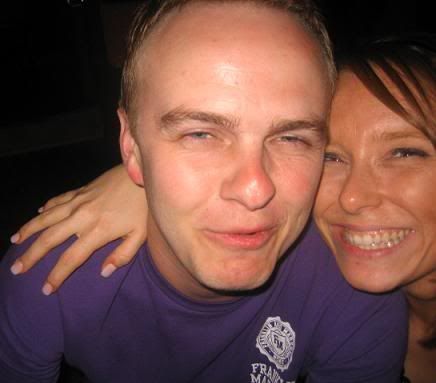 Sloppy.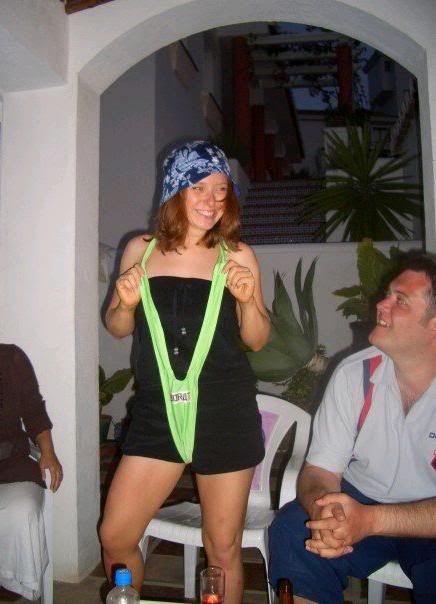 Drinking? I have no idea what you're talking about, Officer.
We all know where this suit has been. *shudder*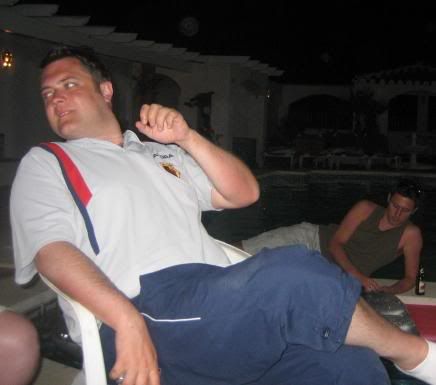 The Taylors and their illegitimate child.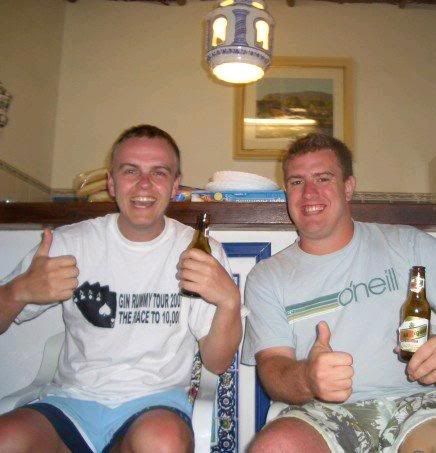 Then the real entertainment begins...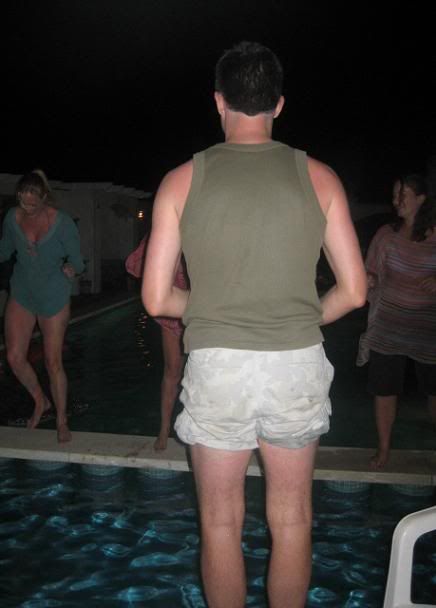 James is really getting down with his bad self.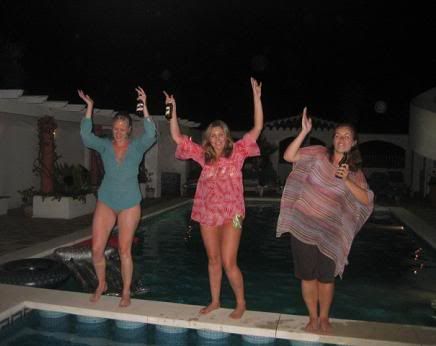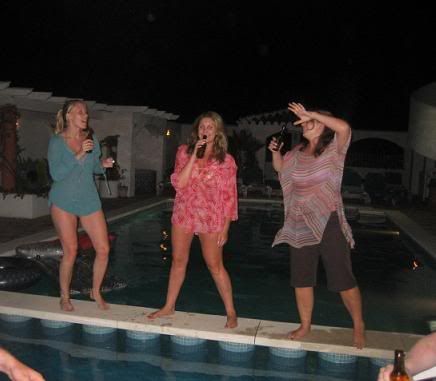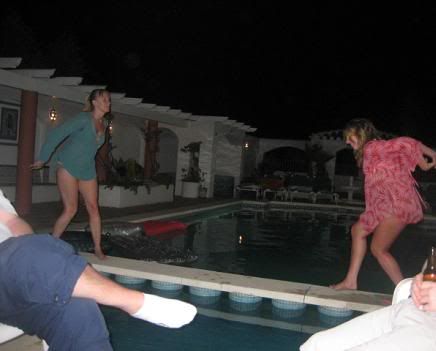 Hours later...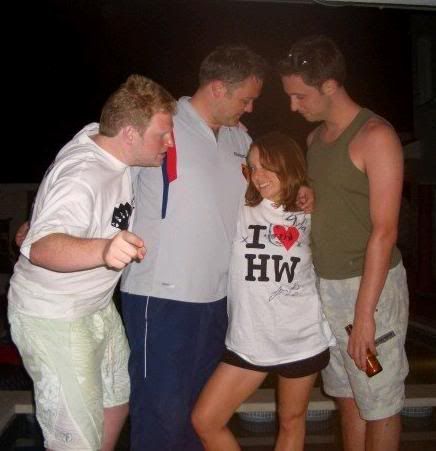 And people wonder why I love High Wycombe and its inhabitants.
Max Beach...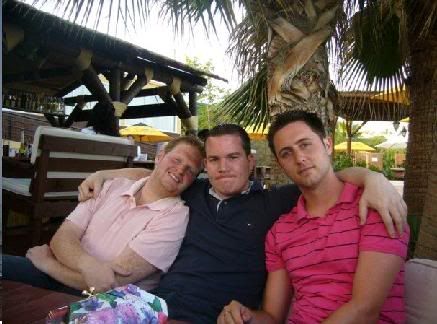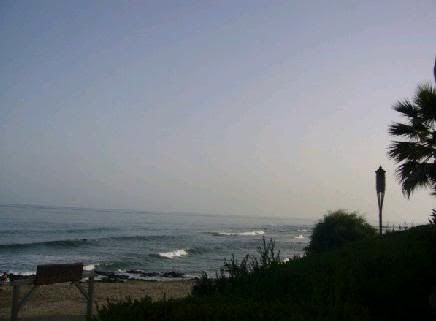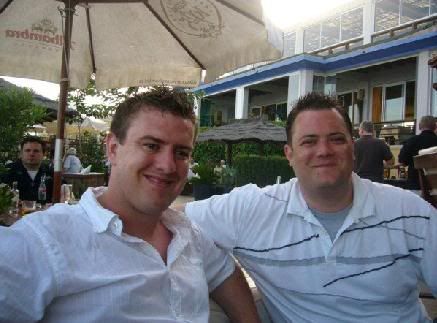 Glennie looks happy, but in actuality that face says "I'm fucking hungry and I'm not waiting until 11 to eat."
A beautiful sight.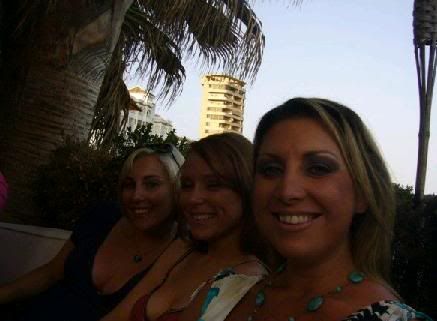 The margaritas have just started flowing, and yet I can't keep my eyes open!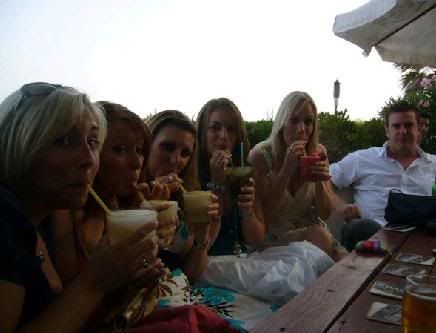 Hurrying to get these done so we could move onto the banana daiquiris.
Manliest picture ever.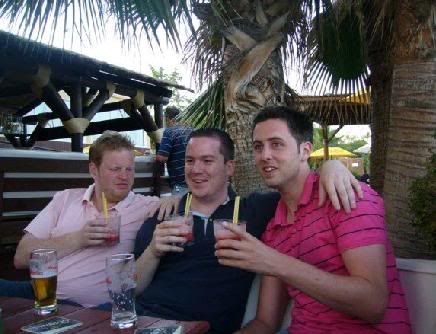 Richie obviously enjoyed that sip.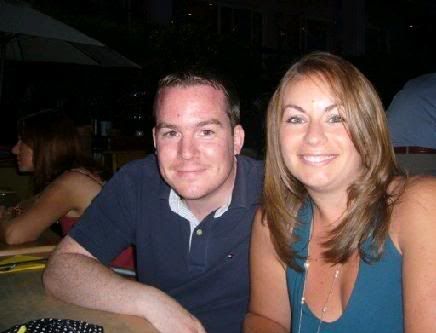 This dinner was SO good!
Better than Jo's drink apparently.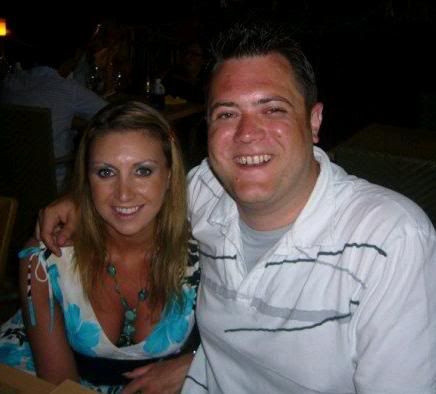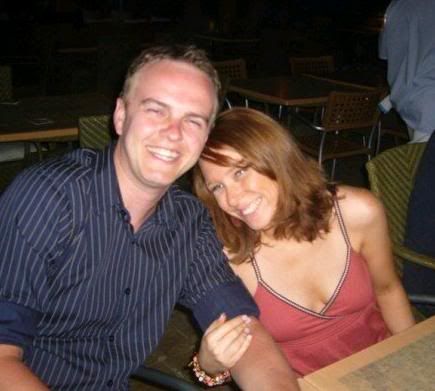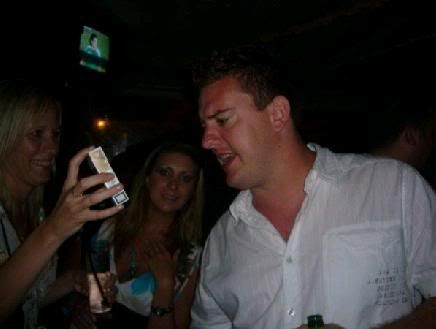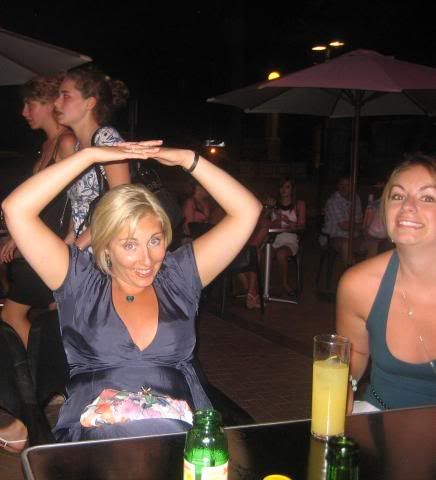 Still relatively coherent.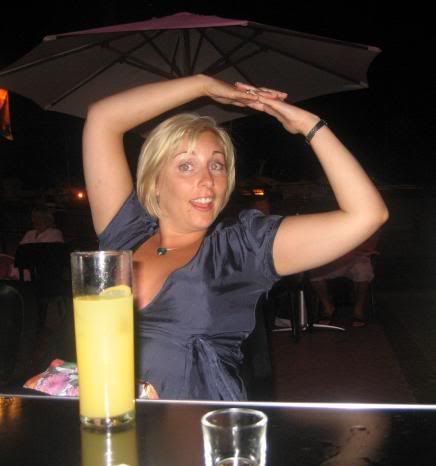 Maybe slightly less so.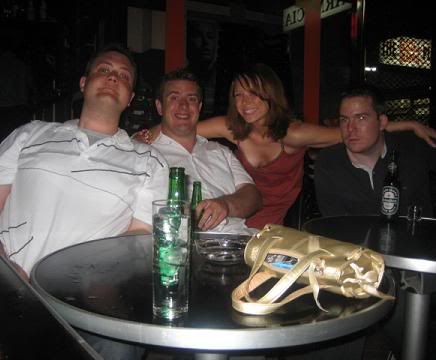 "What am I supposed to do with these?"
*puts them on his face*
"Oh, in that case!"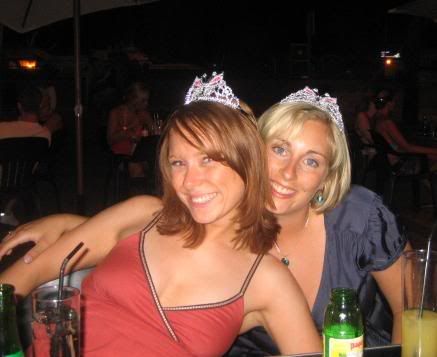 5 euro tiaras haggled down to 2 euros! Can't beat that! Mine sits on my bedroom floor as I write this.
The whole "coherence" thing has long since gone.
The following night at the cocktail bar...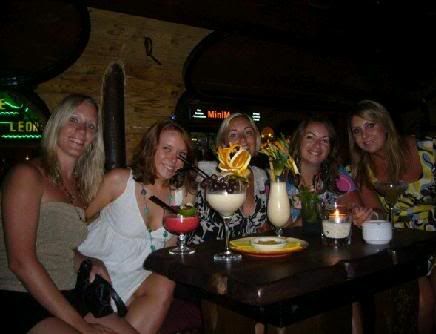 The drinks were like works of art.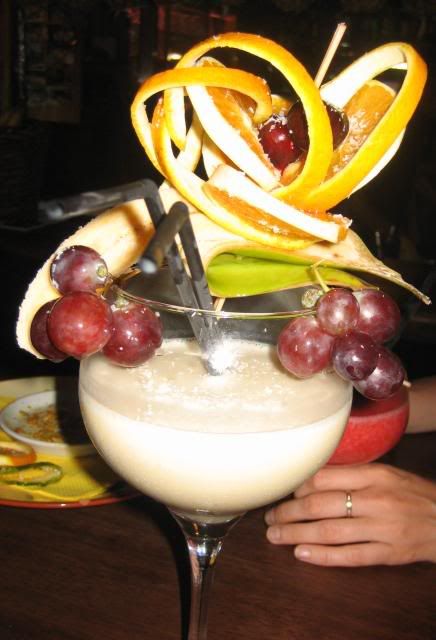 That's mine, and yes that is a whole banana.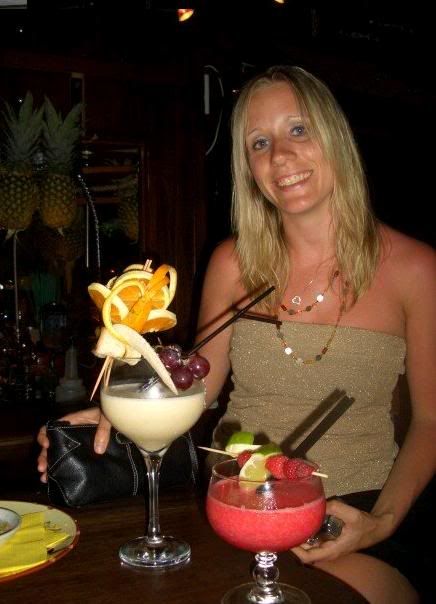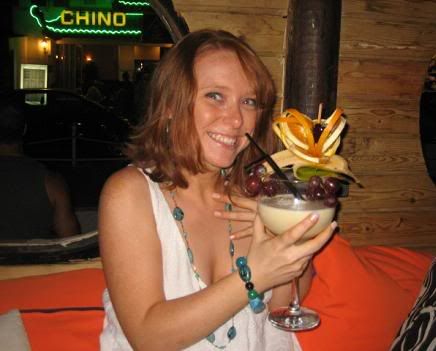 Be still my beating heart.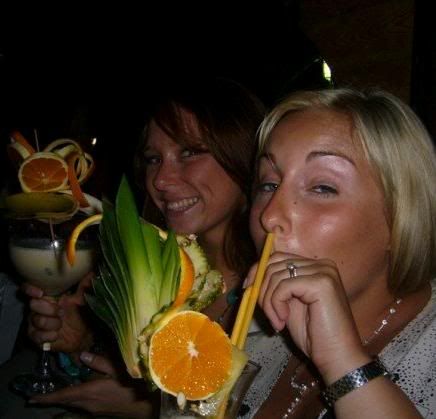 Going...
Going...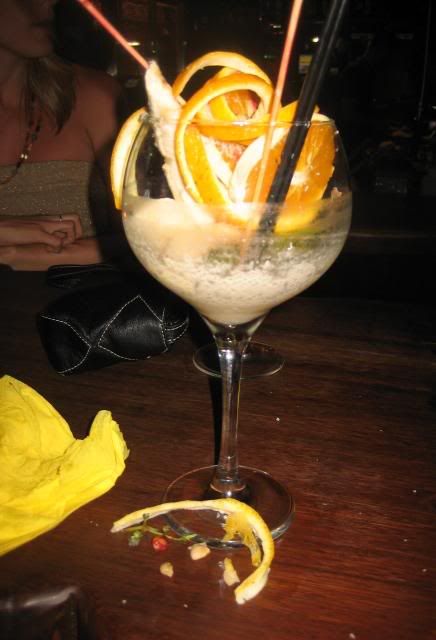 Gone.
Mouthful of salt.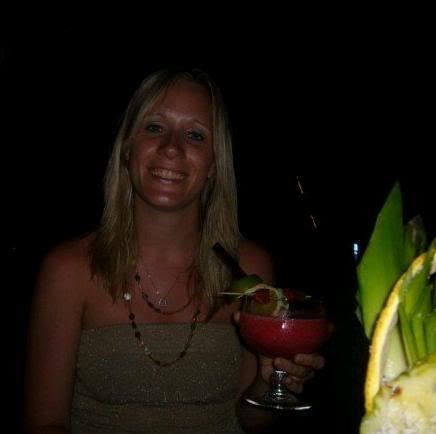 Port Side...
This was the "nip slip" night. Well, I say nip slip. It apparently was "more a bit of shadowing." Enough said.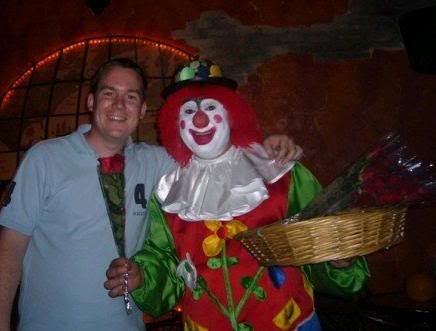 I apologise if this gives you nightmares.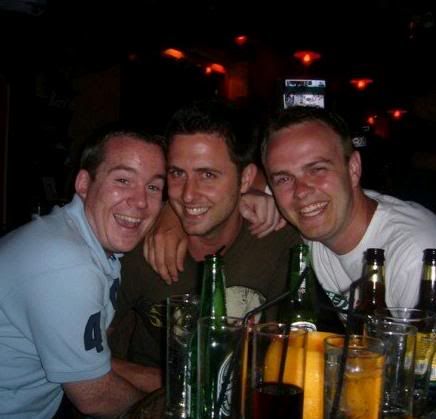 Kebabs-a-plenty
Last Night -- Valparaiso. How posh and classy are we?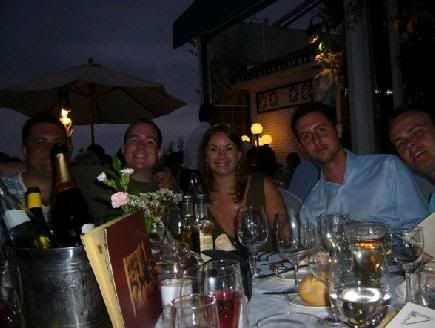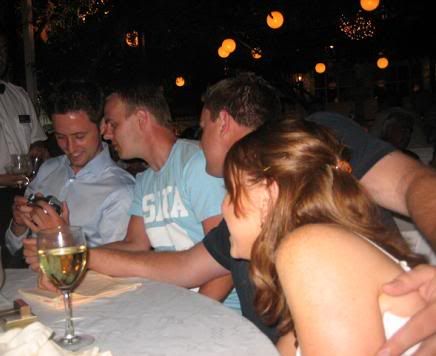 Why do I have 20 versions of every picture? And more importantly, why do I post them all?
The "Killer" Series...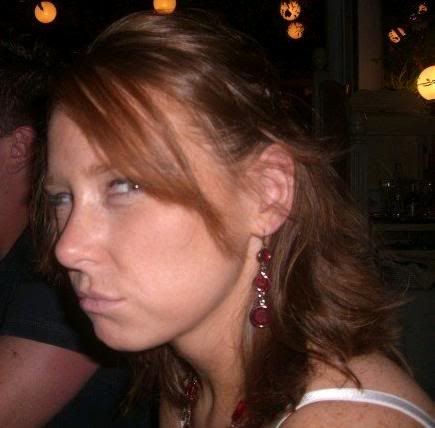 I'm so not intimidating.
Glennie, on the other hand...
Fuck's sake!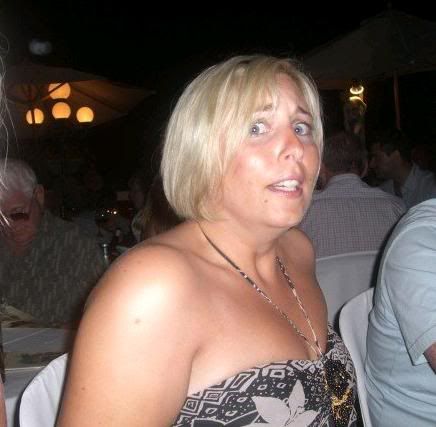 Sam looks more terrified than anything!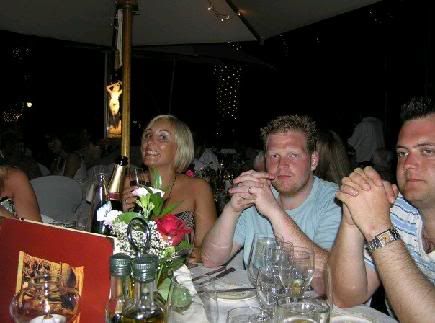 You can dress him up, but you can't take him out.
Remember that thing about us being classy?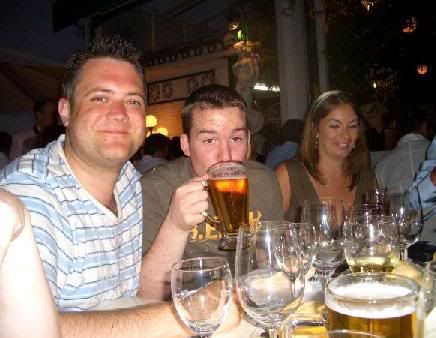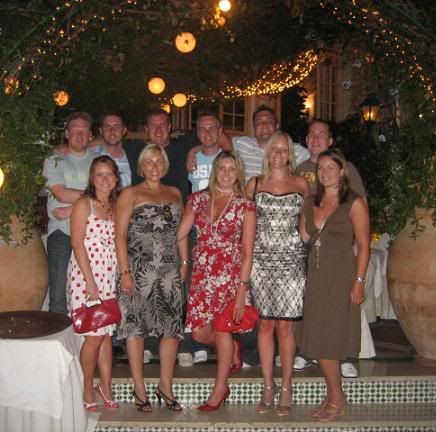 And, we're off...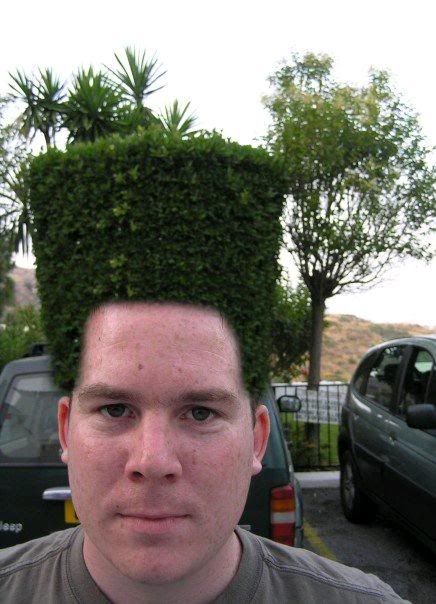 I think there MAY have been some 'shopping involved here.
And so it ends. After the six torturous months leading up to it, it did not disappoint.
Even though this post may have. :-)