So, I don't think I have to point out the fact that Marnie's World is not what it once was, and your once-faithful blogger hasn't made much time to fill you in on various goings-on. I'm finally going to give up saying, "I promise I'll be back to normal soon!" because even I know now that it's not.
There's just not enough hours in the day anymore. Of course now and again there's something too good for me to let it go, but generally, I don't have the time to
pick on celebrities
or
detail my vacations nearly down to the second
. (Hmm... never did get around to the Barbados blog. Oh well).
However, every now and then, something will happen that immediately sends my mind to the "OMFG I HAVE to blog about this" zone that it's seen so little of lately. Last week, I had such a moment. It involved two words:
George Michael.
Hot damn, people. The man is fabulous.
You know, I remember last year, watching an interview with George on TV (I think it might have been an A&E Biography actually) and thinking to myself, "If he comes on tour any time soon, I don't care what it costs, I'm going." I've always really liked him, particularly the Wham years, and anything from the
Listen Without Prejudice
album that came out when I was 10 years old. I could listen to "Praying for Time" 100 times over, and I've always loved the video, even though it's just lyrics on the screen. The same goes for "Freedom '90" (which has a decidedly more fun video). I just love it. But now that I'm older, I somehow can appreciate him and his music even more than when I would try to perfect my catwalk strutting skills by mimicking Estelle Halliday in the
"Too Funky"
video.
Anyway, due to a few unforeseen circumstances, I didn't make it to either of the Madison Square Garden shows, and when the Philly show rolled around last Saturday, I found myself going at it alone. This is of no consequence to me, as I spent the better part of my 20's going to concerts alone, but it's been a while, so it was kind of a bummer.
Traffic caused me to roll up to the Wachovia Center around 10 after 8, so I was frantic that I was missing something. The parking attendant was nice enough to let me park literally steps from the door, so that helped (He said it was because I was cute, but I think it definitely had more to do with him pitying me and my solo self). Thankfully, George didn't hit the stage until a fashionably late 8:45, allowing me ample time to settle in my seat and make some new friends with those around me.
And then the magic began.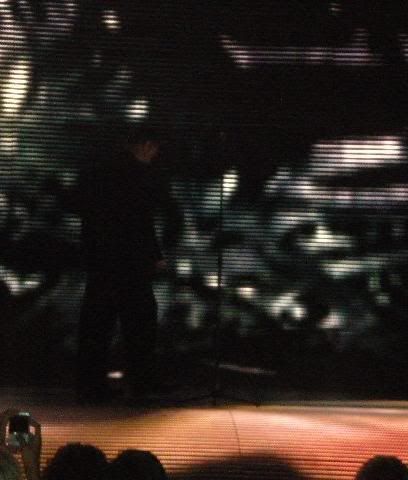 I cannot even tell you how fabulous of a concert this was! His showmanship was incredible and his voice sounded as good as any record you've ever heard. He looked fabulous, and he can still shake that ass like in the days of "You put the boom-boom into my heart..." (only minus the
Day-Glo shorts
).
I was blown away.
As soon as he hit the stage I knew I was in for a real treat. My Canon camera conked out a few months ago, and unfortunately my Nikon doesn't zoom quite as nicely or clearly, but it doesn't do half bad on the video, so I've got some of that for you to enjoy.
"Fast Love", a song that's great on its own, was only made better by the random "I'm Your Man" lyrics thrown in towards the end.
Please forgive the few blacked out moments. It just so happens that the few people in front of me happened to be the tallest in Philadelphia. Or so it seemed.
I was ecstatic with even just the hint of Wham, so imagine my sheer delight when he says, "Do you really think I would take myself that seriously?" and immediately jumps into the full-length version of "I'm Your Man"! Yowza. I hadn't expected to hear ANY Wham at all, and this opened the door for more to come, so I was, to say the least, like a pig in shit.
God love the dancing behind the back-up singer. If you're gonna do, do it right... right?
It was right around that moment that I decided I was DEFINITELY going to see this show again, and that I'd be checking Pollstar the minute I got home to see the remaining dates and venues. (Which actually turned into me checking it out on my phone while waiting to get out of the parking lot, but more on that later). It was also around the time I started
sorely
regretting not making the trip NY for both MSG shows, but no use crying over spilt awesomeness.
He sweated his way (and quite frankly, mine) through Father Figure before taking a seat for the aforementioned "Praying for Time" which has to be my all time fave. When he sang it on Idol this year, I was near to tears in my own bedroom, 12 year-old style.
We were treated to "Hard Day" and then... what's that you say? MORE WHAM.
Oh George, that IS Everything I Want.
In between songs, George was extremely chatty and hilarious. At one point he recounted the perils of reading reviews about himself and finding it hard to remember the good things, while the bad things stick with you. "For example," he said, "The byline will read,
George Michael Still Sounds Great, but Not As Pretty As He Used to Be.
Oh, so I'm getting a double chin. Fuck it."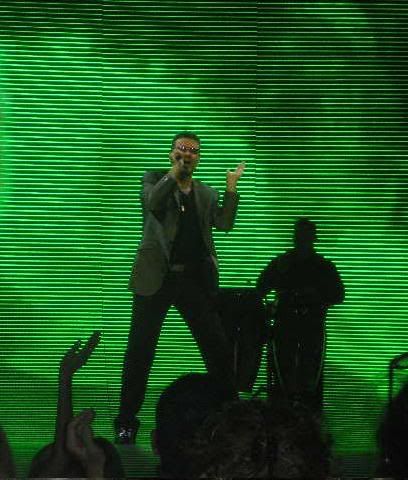 My memory card was filling quick so in my choosiness, I missed that bit, but I did get this amusing intro.
A 20-minute intermission allowed me to go and sufficiently hydrate myself and check out the merch before coming back to the juicy goodness of "Faith".
And so my memory card was dizone, but fortunately the night went on with 7 more songs, AND two encores.
The first encore was NOT "Wake Me Up Before You Go-Go", as you might expect. Instead, we were treated to the scream-inducing saxophone intro of "Careless Whisper" (played by none other than Duran's own Andy Hamilton). The crowd went NUTS.
After that, George said goodbye for the second time, at which point the people next to me started gathering their things. I leaned over to the woman and said, "There's no way he's not singing "Freedom", so I wouldn't go anywhere just yet." She disagreed, but hung around anyway. Good thing, because I was right!
Had my memory card not been full, it wouldn't have much mattered because there was no way I could have stayed in focus to take any kind of pictures or video. I was dancing my ASS off, and had the sweat to prove it.
Amazing.
When the show was over, I didn't make any kind of mad dash to my car, mostly because I know how futile it is. I was still reeling over the show I'd just seen, and was on Cloud 9 as I made my way up the steps towards the doors. In front of me were two young gay guys (one of many that night, I assure you), also making their way out. I couldn't help but laugh upon hearing their conversation:
Boy 1: "I need a cheesesteak. Or a boy."
Boy 2: "I'd rather have the cheesesteak."
Boy 1: "Speak for yourself. I want meat, and it's not in a bun. Yet."
Boy 2" "You're disgusting."
Boy 1: "I'm at a George Michael concert! If I can't be this gay now, when CAN I be this gay?"
Boy 2: "Fair enough."
Ha. And I thought the night couldn't get any better.
Once I was in my car and headed through the lot, like I said, I whipped out the trusty Sidekick and checked
Pollstar
for the upcoming shows. He was playing Boston the following night but that was an impossibility. DC on Tuesday though. Perfect. Done.
Cut to Tuesday afternoon. My co-worker Stacy and I, blowing down I-95, making our way to meet with our beloved George. She had been in Florida over the weekend and missed the deliciousness of Philly, and I was happy to have someone to share the experience with!
It was almost criminal how quickly we got there, considering DC and its surrounding areas are supposed to be #1 in the country for traffic. I'd been there twice before (once when
stalking Keane
and the other
to visit Micki and Jay
) and both times proved that statistic beyond the shadow of a doubt. This time the Gods appeared to be smiling down on us, because we made it under 2 hours and had absolutely no problem finding the Verizon Center or the adjacent parking lot. Yay Googlemaps!
We knocked back a few GIANT Long Island Iced Teas at the Green Turtle, a sports bar connected to the Venue, and our waiter was nice enough to put my last one in a large soda cup, which allowed me to put it in my giant Balenciaga knockoff and bring it into the venue with me. Score.
Our seats weren't as close as I was in Philly, but they were great because they allowed us to see the full stage set up, something I couldn't do from the floor in Philly, being a midget and all.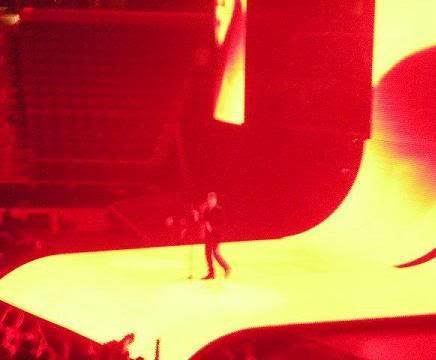 The sound was a bit better from that spot as well, so you can really appreciate just how great he sounds.
Sorry for the choppiness, btw. A videographer I am not.
Sadly, he inexplicably skipped "Praying for Time", and he was decidedly less chatty this time, but it was no less mind-blowing than a few nights before. Filled with Long Island Iced Tea, Stacy and I didn't hesitate to scream the background vocals for "Father Figure" for him. I'm sure it was well appreciated by all.
At the intermission, we came out to find the drink line at least 50 people long. I turned to Stacy and remarked that there was no way I was waiting in that line. She protested, saying, "But I really want more wine". I retorted, "Oh, we're getting wine. We're just not waiting in the line." I walked up to the two gentlemen who were next in line and offered for them to keep the change if they would kindly order two wines with their order. Done and done!
That left us enough time to politely ask the usher if we could move a section closer. She obliged. Yes... a girl. Do you believe it? That
never
happens.
So now are seats are really good, AND we're all boozed up. Good times.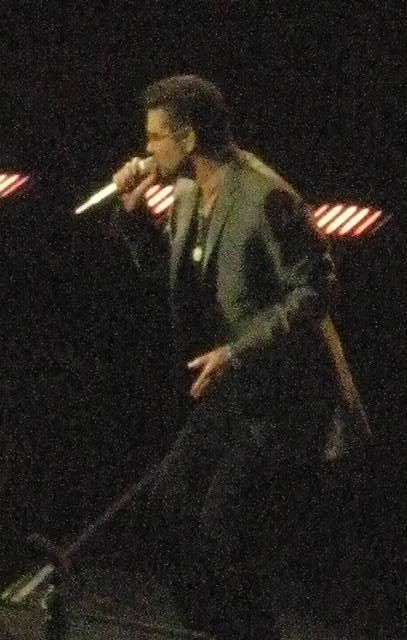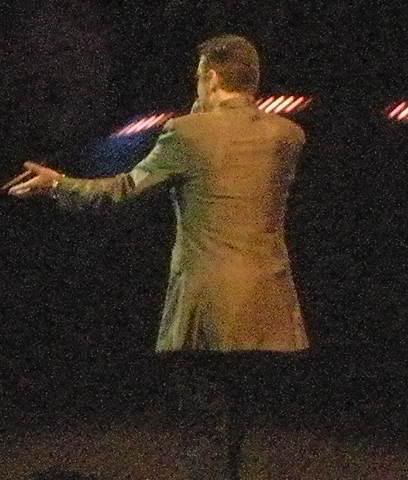 REALLY good times.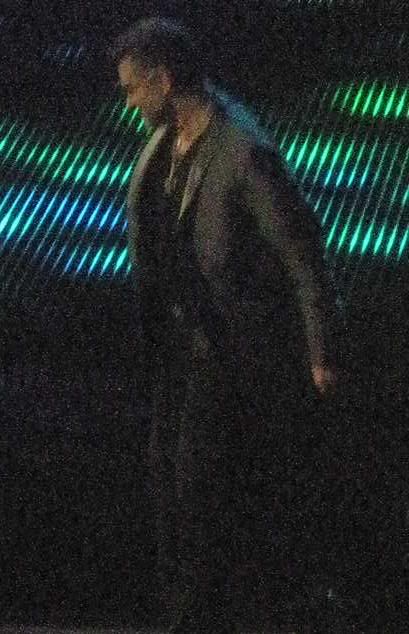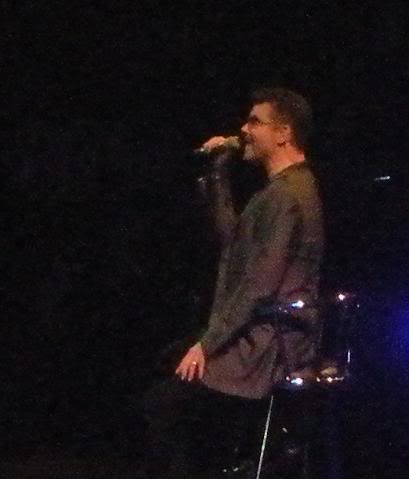 I think it's "Amazing".
If you listen closely on that one, as he goes into "Flawless" you can hear me tell Stacy, "This is the song where the other night he said "Where are my gay boys?", just before George says, "By the way, this is the gayest record I ever made."
Well, yeah.
And this was the gayest outfit.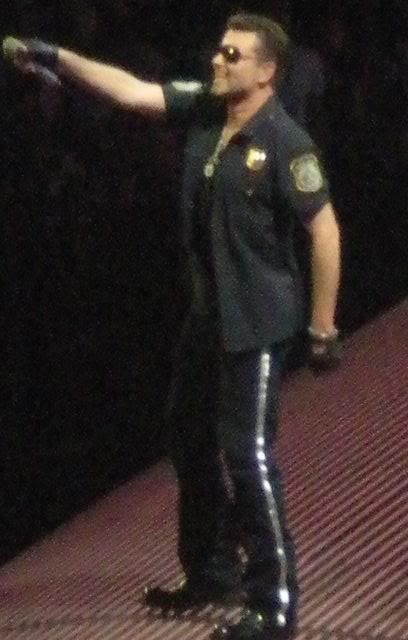 I. Love. It.
And is that handcuffs I spy?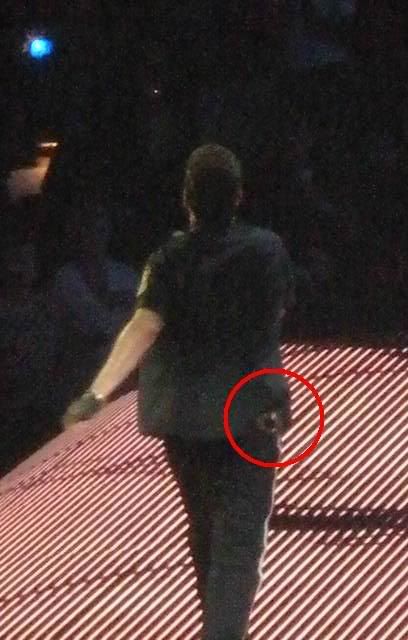 Once again I was FAR too insane to get any type of pictures or recording of "Freedom '90" but I knew that in advance. However, I planned ahead enough to have my wits about me for the start of "Careless Whisper".
Of course I scream through it like the true ass that I am. (Listen extra close to hear my ever-classy "Fuck yeah!" just after the scream) Plus I was totally drunk because Stacy asks how old I was when it came out, and I said "Three!!" (I was actually almost 5, and I'm normally very good at recounting those sorts of facts). Then you can hear Stacy drunkenly telling me that the guy next to her thought she was in her early 20's (now, not when the song came out) and how he's 65 (for the record, he looked great). So of course we ruined what would otherwise have been a damn good recording. Damn you, Long Island Iced Tea!
And GOD do I hate the sound of my own voice.
Anyway, to make up for my idiocy, I did manage to find a good recording of "Freedom '90" from that night, care of YouTube (thanks, Shore94!). It begins with the crowd singing "Happy Birthday" to one of the crew members, and then George asking the crowd, if they could hear one more song, which one would it be? Enjoy.
After the show, we scored some fabulous merch...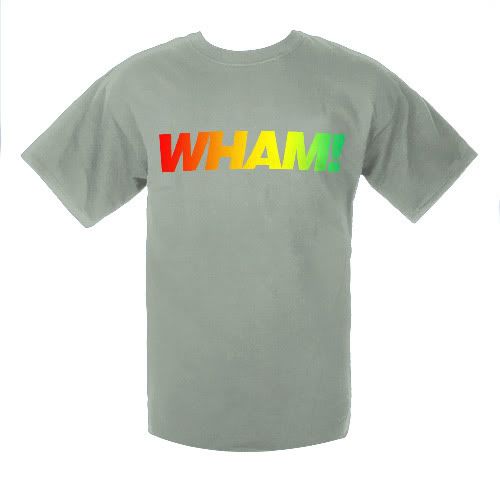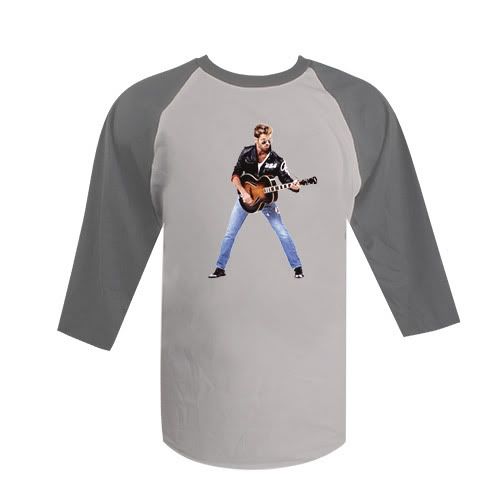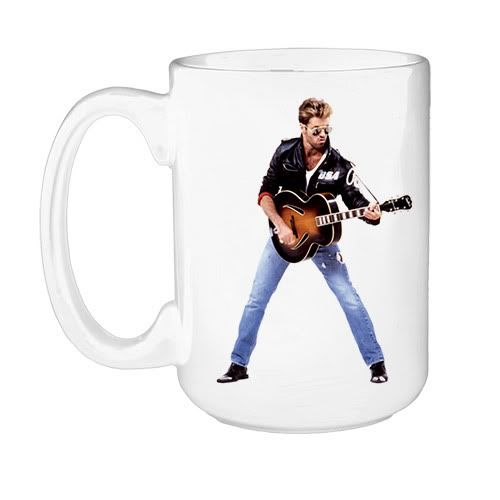 I mean, really. (PS The mug is SO much better in person)
... before taking this pic...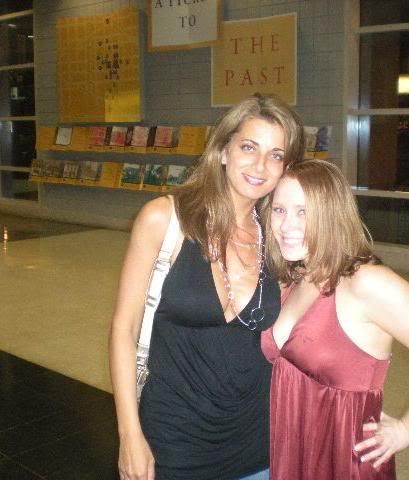 ...and heading our asses home, ready to be bright-eyed and bushy-tailed (okay, more like passing out and hungover) at work the next morning. (Wake us up before you go-go, indeed).
All I can say is that it was worth every minute. In fact, if it's even possible, I'm even MORE gutted that my would-be trip to England in August is no longer happening,*shakes fist at economy* since he's playing Earl's Court (my fave London venue) on the very dates that I'd have been there.
I guess I'll just have to hope that he's lying when he says this is is last tour. :-)