She totally doesn't by the way.
Last year, in my annual Halloween post, I joked that Matt and I decided to put together some sort of duo costume, and I showed this picture:
Of course it was a joke and we opted instead to glam it up as David and Victoria Beckham.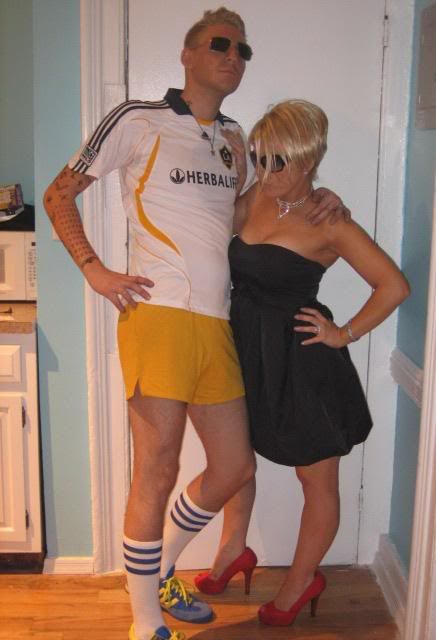 However, the Bacon and Egg idea did not go to waste! It's not even officially Halloween yet, and already those costumes were utilized this year by one Miss Gwen Stefani and her husband, Gavin Rossdale -- a fact which I find hilarious.
Of course, Gavin was far too cool to actually put his on until it was absolutely necessary, but I still totes love the fact that they rocked these costumes that anyone could pick up at their local
Halloween Adventure
!!
Seal and Heidi Klum
, they are not!
Speaking of Heidi Klum, for the last 2 months or so, Matt and I had totally planned on being her and Tim Gunn for Halloween this year. We were having trouble coming up with something that would work as well as our Beckham costumes, and that was the best we could come up with. We toyed around with being Lindsay and Samantha, but then we decided that it might just end up looking like us on any given night!
(
Well, but for the fact that, while I've had my ups and downs, even

I

apply fake tanner better than the mess that is Lindsay Lohan! I mean, not to go off on a tangent, but behold
:
SERIOUSLY, Lindsay? You thought that was okay? You look like you have socks and kneepads on! And why have I read a half billion times how you've been axed from Ugly Betty, but no one ever really talked about this tragedy? But I digress.
)
So yeah, we nixed that idea pretty early on and moved on to Heidi and Tim. I liked the idea in theory (it was actually mine to begin with) but not only wasn't I sure if people would know what we were, but I was also having trouble coming to terms with the inevitable ass and thigh comparisons that would have been going on all night. After all,
Heidi Klum
, I am not.
So, while I thought it could ultimately work, particularly if I carried
this doll
, I was never that excited about it, and I want to be excited about Halloween.
The other night, while catching up on the celebrity blogs, I had an idea that I thought could work MUCH better. I thought we'd be a lot more recognizable, for one thing, and it would also allow us to include another one of our friends in the idea. Matt was totally down with it, and we started on it right away.
Of course I'm not going to tell you what it is. You've only got a few more days, and if all goes according to plan, it just might be worth the wait!
In the meantime, you can read the previous Halloween posts to kill time. :-)
Spooktacular
Spooktacular II
Halloweekend
Oh, and of course, look at the pet costumes
here
. So fabulous!