Well, here I sit on this fine October evening, finding myself with some true free time for the first time in a while. Of course, by "free time" I mean "I have so much work-related stuff I could be doing but choose to procrastinate instead" but I personally can't think of a better time to catch my faithful readers (yes, both of you!) up on the latest in El Mundo de Marnie.
As we all know, I haven't been particularly good at posting for a while now. (Some would argue I was never particularly
good
at posting, but I've been decidedly less
frequent
in the last year). So let's catch up, shall we?
First off, I'm a Brooklynite now. After my London plans went the way of Amy Winehouse's liver, I decided to make the move to New York with Matt and so far so good. I managed to fracture a toe on my first week here, fainted and almost give myself a concussion on week 2, and by week 5 I was lucky enough to meet the world's CREEPIEST guy in a midtown subway station, but so far Matt and I haven't killed eachother and the good has far outweighed the bad.
We've had a few good nights out. You know the kind.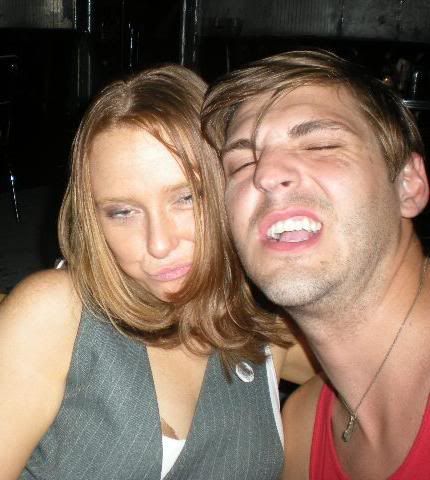 If I wasn't so lazy I might Photoshop that visible bra out of the shot, but I am so I won't. And anyway, it's classy.
Last week I had Simon up here with me, and we frequented the various dog runs of the city. I think he's decided that
Cooper Park
in East Williamsburg is his fave.
On our first trip there he played the shy "I'm just gonna sit on your lap and watch" act at first...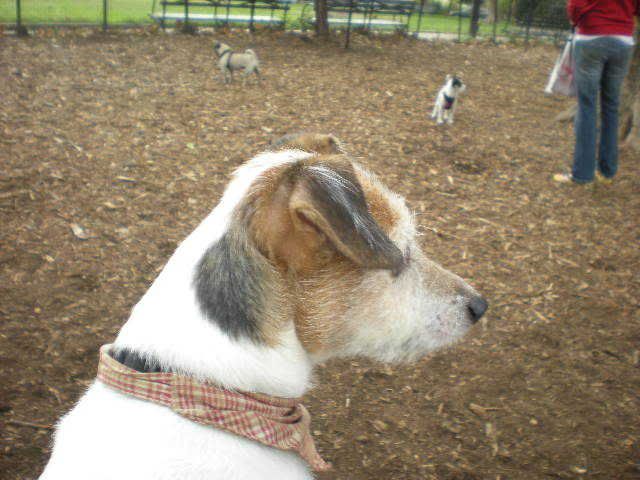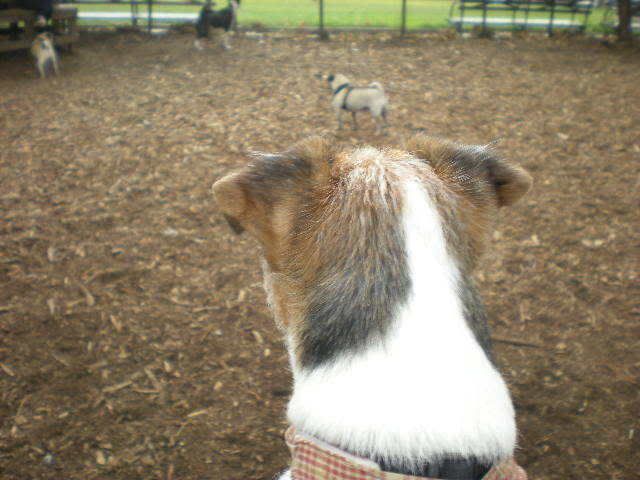 But then he seemed to really take to little Harper the pug...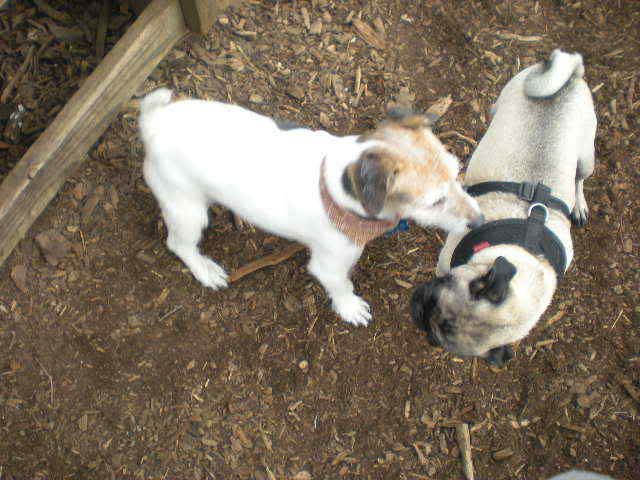 As well as another Simon...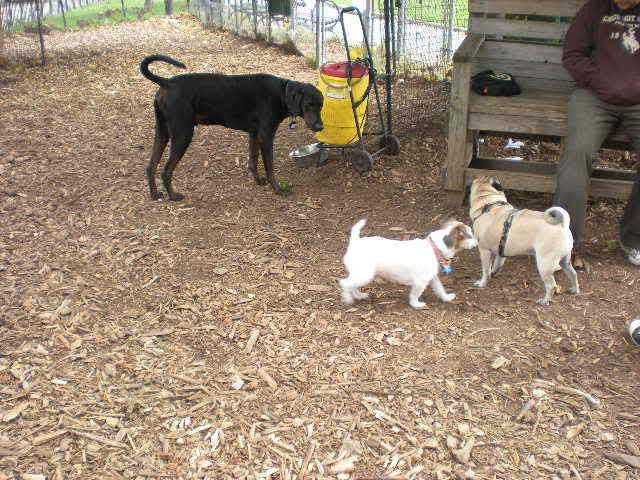 Before coming home and passing the hell out.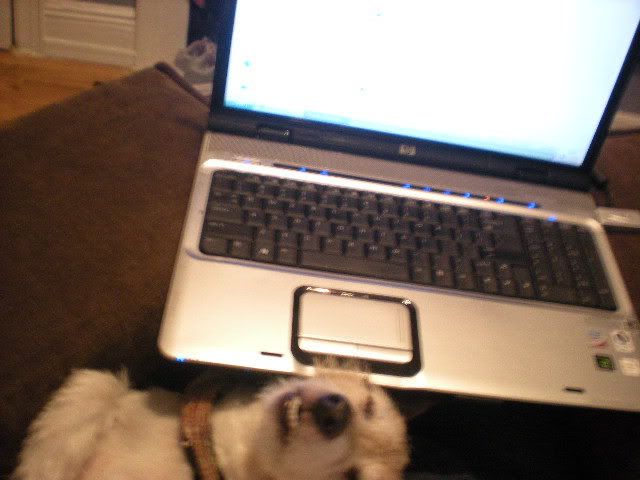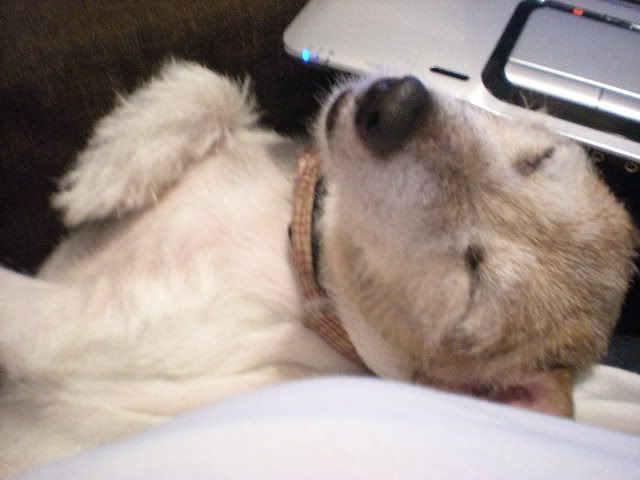 The next day we went to Tompkins Square Park to relive
our weekend from last year
, but he wasn't having it. He just wanted to stare at the big dogs and have me tell the little dogs leave him alone.
Before long he started frantically scratching my purse, prompting me to wonder if I had some old treats in there or something, before realizing he actually just wanted his leash! We were out.
We went and dined at
Sidewalk Cafe
where, for the first and last time in his life, Simon was used as an example for good behavior. Another woman's dog was misbehaving and she was told to put him on the other side of the barrier. She angrily pointed at Simon and said "That dog's on this side of the barrier" when the waiter issued the verbal smackdown, "That dog's not bothering anyone!". Zing!
Once we got home Simon made himself comfortable...
And *suprise!* passed out again.
On days when the dog runs got to be too much for him, we just chilled in our backyard, which I think he liked almost as much...
And that pretty much sums up our week. I was so sad to see him go though. Aside from our week-long dog-owner bonding sesh, sending him home has certainly stifled my burgeoning New York social life. I met more normal, fun people in 7 days of dog runs than I have in any human-oriented situation in ages!
Sadder still, is the fact that I really don't have that much more to update you on! While I've certainly been busy, the vast majority of it has been boring work stuff that's hardly worth doing, much less writing about.
Mind you, that will change in the coming months!
My beloved Keane,
as you know
, have just released their fabulous new album and of course, will be touring in support of it. We had the time of our lives
last year on our mini tour
, so after much thought (read: no thought at all) Kat and I decided that we would be remiss and borderline blasphemous if we didn't attend each and every North American show this time around.
And well, it's actually very likely that we'll hit up much of the UK tour as well. Insane? Certainly. But I personally can't think of a better way to spend my birthday than dancing around like an idiot and singing along with my less than stellar voice at the Echo Arena in Liverpool. I just warned Tony yesterday that he and the guys will be seeing plenty of mine and Kat's smiling countenances beaming back at them from the front row in the coming months. He replied, "Fantastic. Wouldn't want it any other way!".
Me neither, Tony. Me neither!
If they hadn't canceled the Jimmy Kimmell appearance for this Friday that we had tickets to, we could have it that way a little sooner, but patience is a virtue, as they say.
So that's all for now. I know this blog has been pretty much a boring pile of shite for a while now, but things are looking up. Watch this space!