Wednesday, January 28, 2009
Saturday, January 03, 2009
Michigan Twins Born in Different Years
Tangernika Woods of Michigan gave birth to one of her twin boys in 2008 and the other in 2009.
ROCHESTER, Mich. (Jan. 2) - They're twins, all right, despite what their spanking new birth certificates say. Tariq Griffin entered the world at 12:17 a.m. on New Year's Day at Crittenton Hospital in Rochester, Mich. Twin brother Tarrance was born a bit earlier — 26 minutes to be exact.





That means the boys have the unique distinction of having been born on different days, months and years.





Their dad, Tarrance Sr., is also a twin. The parents say the boys are doing well, which is their main concern.

(AP)
Posted by

Marnie
at 2:30 AM
No comments:
Links to this post


Thursday, January 01, 2009
In this day full of resolutions and hopes of bettering oneself, I figured I'd give you a break from all that and instead write a shameless plug for my friend's adorable idea!
Wish Lockets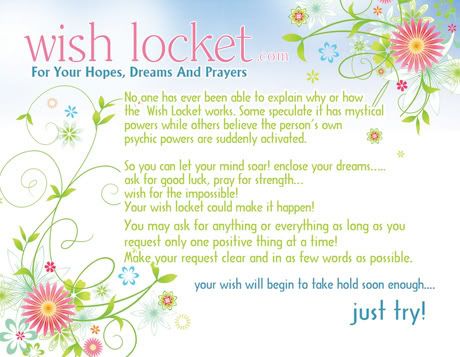 So if you're like me and have trouble keeping all of those New Year's resolutions on your own, maybe a Wish Locket is just what you need. :-)
It's a super cute idea and makes a great gift. They have tons of designs and can even personalize it for you.
Check it out
!
For those of you on Facebook, you can become a fan
here
.
What have you go to lose?
Happy New Year everyone!
Posted by

Marnie
at 8:36 PM
No comments:
Links to this post